By franco on 30 December, 2008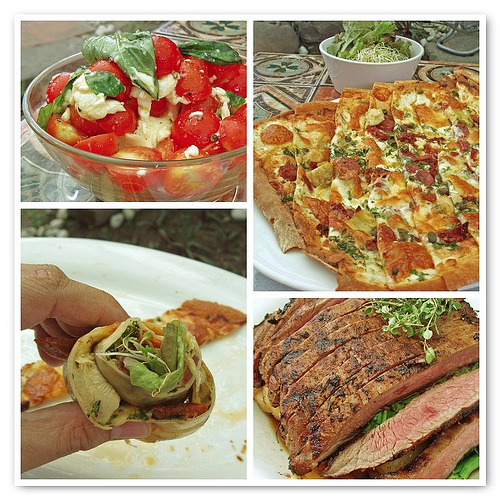 from top left, clockwise

Insalata Caprese, Panizza Peppone,
Bistecca di C, Panizza in a Roll
What does it take to be considered the best?
An accessible location? A delectable menu? Service that makes diners feel like honored guests? Or is there an X factor? An unquantifiable quality that a restaurant possesses that brings the dining public knocking on its doors, wanting more?
C' Italian Dining has been named by many as the best Italian restaurant, not just in the province of Pampanga or Metro Manila but in the entire Philippines. A heady accolade, to say the least. So it is understandable that first-time visitors would have high expectations at this much-praised establishment. After all, a restaurant doesn't get proclaimed the best on a mere whim.
"What were owners thinking opening a Italian restaurant in the middle of Pampanga?" I asked M, a foodie acquaintance (and more importantly a recent C Italian Dining guest). I admit, it is a snobby Manileno thing to ask. But after some discussion with M, it begins to make perfect sense. Opening another Italian restaurant in Manila would have been challenging at best. No matter how delicious a restaurant's food, it would be easy to get lost the myriad of talented Italian cookery. Why not set up a restaurant where you can be the proverbial big fish in a little pond? And besides, as M so eloquently put it, if you make a meal harder to have, the more they (the dining public) will want it.
Chef and owner Chef Chris Locher is master of his craft, making dishes that inspire images of a lush Italian countryside. Take, for example, the Insalata Caprese (P440). This salad of sun-ripe cherry tomatoes, buffalo mozzarella and fresh basil is dressed with olive oil, coarse salt and fresh cracked peppercorns. There are no intricate cooking techniques or complex sauce to hide behind. This dish is all about freshness: the juicy bite of the tomatoes, the slightly salty creaminess of the mozzarella and the unmistakable aroma and flavor of freshly torn basil leaves, bound by a fruity olive oil. Lovely.
With our appetites whetted, our Panizza Peppone (P580) arrives. At first glace, this thin-crust pizza topped with spicy salami, anchovies, capers, artichokes and sun-dried tomatoes is nothing unusual, until you notice how it is sliced. Instead of the usual triangular wedges, this C' Italian's signature dish is cut into long, thin strips. From my conversation with M, I knew that guests are encouraged to create rolls of pizza with centers of fresh arugula and alfalfa sprouts. At first bite, the reason for this unique dish's popularity becomes clear: a taste of fresh greens surrounded by the roasted flavors of salami and anchovies and the crisp crackle of the toasted crust.
Wanting to savor more of Chef Locher's scrumptious menu, we order the Bistecca di C (P1600), an angus flank steak marinated with black pepper, garlic, herbs and a red wine reduction. Served with roasted potatoes and pumpkin slices, this traditionally grilled piece of meat is a substantial serving of beefy deliciousness. The smell of rosemary and thyme fill your nose as you take your first bite. The flank steak is surprisingly tender and succulent. With every succeeding serving, the flavors of roasted garlic and red wine heighten the sweetness of the beef.
If it were just about the food, our experience would have been rated as one of the best. But a lost reservation, a less-than-comfortable seating area, an unusually long wait for service and a server who seemed distracted, almost to the point of disinterest, made our lunch less than outstanding. For the time and money, diners spend one would expect a better front-of-the-house.
Is C' Italian Dining the best Italian restaurant in the Philippines?
It could be. But by my impression, it's not quite there yet. Without a doubt, Chef Locher cooks with such a depth of knowledge and undeniable love that diners cannot help but be blissfully swept away by his traditional Italian creations. In many cases, that would have been enough. But when they label you the best, it becomes more than just about the food.
Would I return to C' Italian Dining? Absolutely. I cannot wait to savor my next rolled-up slice of panizza or tuck into the Insalata Caprese, a bowl of fresh Italian flavors. And besides, as they say, Rome (or the best Italian restaurant, for that matter) was not built in a day.
C' Italian Dining
1210 Don Juico Avenue
Clarkview, Malabanas
Angles City, Pampanga
Telephone: (045) 892 4059, (045) 892 6993
Website: http://www.citaliandining.com
LABELS: A Conversation about C, C Italian Dining, Pampanga, The Travelling Table