By franco on 16 December, 2008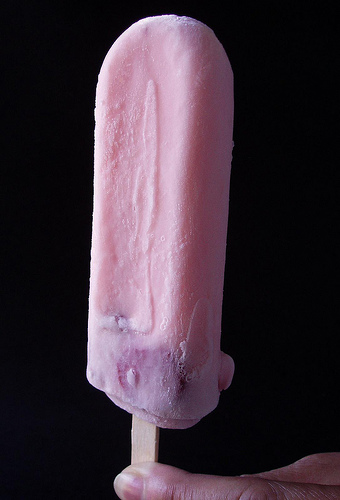 Strawberry Yogurt Popsicle
I never got into this whole frozen yogurt thing.
I do enjoy yogurt. But as a frozen dessert, I usually pass and ask for a scoop (or two) of ice cream instead. No surprises there. But after a recent Sunday dinner at my sister's place, I might have to eat (or lick) my words. Never say never.
Once we had finished tucking into the usual Sunday fare, my sister's cook comes over to me and offers a special treat for dessert, a Strawberry Yogurt Popsicle by Picole. I hesitate. While I have a respectful disdain for frozen yogurt, I do however have an odd fixation with food that comes on a stick.
Barbecued pork on a stick? Absolutely. Fried bananas on a stick? Yes, please. Coagulated pig's blood? Sure, I'll give it a try. So why not frozen yogurt on a stick? After a brief moment of thought, I accept the offer.
Moments later, my dessert arrives. Inside a clear plastic wrapper is a blush pink popsicle. Looking closer, I can see slices of fresh strawberries frozen within the frost-covered yogurt. I take my first lick.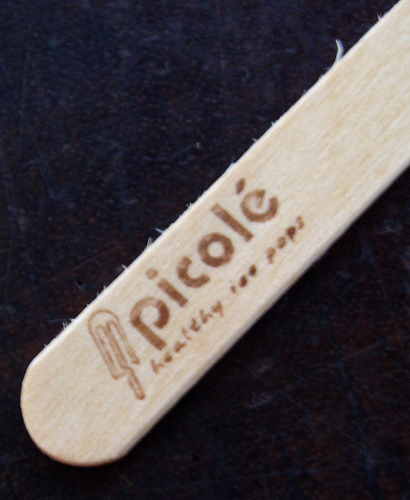 After the numbness subsides, there is a taste of creamy yogurt as my tongue's heat melts the popsicle. Following my second lick is the tangy, sweet flavor of iced strawberries. A third lick brings the two sensations together into a duet of the tangy sour and the sublime sweetness. Both in perfect balance.
The following Saturday, I arrive early at the Salcedo Village Market. I want to be Picole's first customer for the day.
Yogurt on a stick? Yes, please. I'll take a dozen.
Picole also offers juice and milk based popsicles as well. A wide variety of flavors are available.
Picole: Healthy Ice Pops
Salcedo Village Market (across from Ineng's Barbeque)
Telephone: (02) 724 4567
Cel: (0917) 511 0208, (0917) 530 0649
Look for Candy Subida
LABELS: Picole, Table Suggestions, Yummy on a Stick