By franco on 3 December, 2008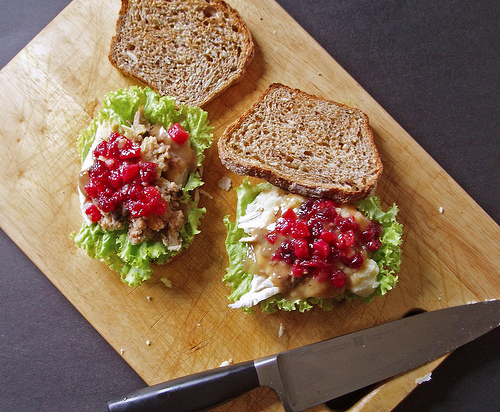 The Morning After: The Post-Thanksgiving Ritual
This isn't so much a recipe as it is a technique.
My family has celebrated Thanksgiving for as long as I can remember. Our family has lived in many parts of the world. Because of our ever-changing environment, it became imperative for my parents to create a stable and constant home for me and my siblings. Family celebrations like Christmas, New Year's, birthdays and even Thanksgiving are always religiously observed. No matter where we are, we always know where home is–it is wherever our family is.
For us, Thanksgiving is an amazing holiday. It is an evening to celebrate family, to give thanks for life's blessings and of course, to tuck into a 20-pound turkey.
Anyway, back to the sandwich.
Three Thanksgiving dinners ago, I had an enlightening conversation with my niece K concerning the ever-important turkey leftovers. Eventually, our talk turned toward our common love for the Cold Turkey Sandwich. Before this little chat, my idea of a perfect post-Thanksgiving sandwich was simple: lots of carved white meat in between slices of white bread, smothered in globs of mayonnaise. When I told her this, K was aghast. "Tito, isn't the point of the sandwich to relive Thanksgiving dinner?" she asked. She went on to suggest that maybe I should try using all the leftovers in one sandwich. This means using the turkey, the stuffing, the cranberry sauce, the sweet potatoes, the salad greens, the gravy and even the mashed potatoes to make the ultimate Thanksgiving sandwich. Admittedly, I was skeptical at first. But I tried it the next day and I have been making my sandwiches K's way every year since.
My niece calls it Thanksgiving in a sandwich. I call it delicious.
LABELS: Sandwich, Table Recipes, Thanksgiving, Turkey