By Guest on 13 December, 2008
Note: This month, the Three will be sharing our foodie wish lists for this holiday season. Just in case, Santa is reading. Enjoy.
When Franco approached me to talk about my foodie Christmas list, my mind immediately raced with images of all the various kitchen doodads I've wanted– small things like pans, rasp graters, julienne peelers, knives, and immersion blenders. However, since this is pretty much fantasy, I might as well take advantage of Santa's bottomless sack of goodies and reach for the stars.
I went on a tour of Europe (one of those "economical" 15-day whirlwind tours covering 7 countries) in 2004, before I had my culinary awakening. Since it was my first time to set foot on another continent, I was unprepared for the experience and took in everything I could without focus. Fast-forward to almost 5 years later and a love affair with patisserie– I long to go back to Paris and see it with new eyes. Originally I'd written it off as a crazily congested cosmopolitan jungle. But anyone who is serious about dessert HAS to go, if only to purge yourself of a lifetime of boring, repetitive sweets. Even if the city isn't free of horrible bakers, it still is the birthplace of patisserie and home to the best in the world– Fauchon, Dalloyau, Pierre Hermé, Ladurée, Sadaharu Aoki, and Lenôtre— to start! The essays of David Lebovitz and Dorie Greenspan are fun to read, but they only feed my hunger more. I need to go back.
(Dear Santa, Tokyo or New York will do in a pinch.)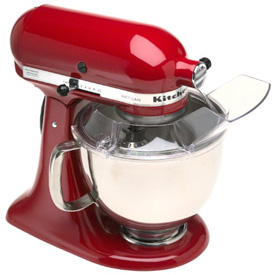 For a lot less than a plane ticket to France, I can also satisfy my dessert-y desires with the help of a trusty Kitchenaid Professional Stand Mixer. While my 600-peso hand mixer serves me very well, some desserts and breads like Brioche, strudel, and roti canai can't be done very well without something sturdier. The best part is that it can multitask as an ice-cream maker, meat grinder, and pasta machine– pretty handy for the guy who wants to do it all. One thing's for sure– if some culinarily-challenged couple who received it as a wedding present decides to sell it on eBay, I'll be first in line to snatch it up.
Now, if only someone had a trip to Europe they were willing to let go…
Manggy is owner of the blog No Special Effects.
LABELS: All I Want for Christmas, Manggy, Sugar Rush