By Mariko on 23 December, 2008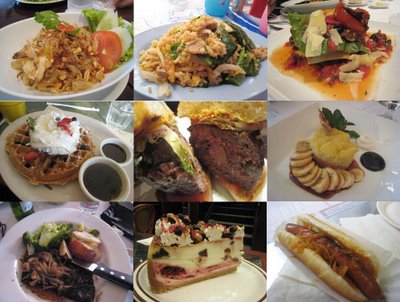 Some of the stuff I ate on my 2008 travels*
Note: This month, the Three will be sharing our foodie wish lists for this holiday season. Just in case, Santa is reading. Enjoy.

Dear Santa,
I think I've been a pretty good girl this year–no major indiscretions apart from that trip to Ambos Mundos. I'm pretty sure I'm on the "Nice" side of your list, so I'm hoping that for this Christmas, you'd give me…everything.
OK, so I haven't been that nice, I know. But before you fall off your sleigh, let me explain: All I want is the chance to see the world, and taste what every city, every country has to offer. A chance to go back to Europe and re-do my food experience–no more McDo in Rome, I swear…I was too young to know any better. A chance to travel and eat the way I traveled and ate this year. (Interestingly, I've been following in Franco's footsteps–I found myself in Bangkok and New York a few months after he went. If this is some kind of trend, I'm hoping Greece is next on his list…)
If this is too much to ask, then a gym membership would do.
Thanks! And Merry Christmas!
XOXO,
Mariko
*(First row, from left) Pomelo salad at Jim Thompson Cafe, Bangkok street food, lasagna salad at the Cibo-esque Greyhound Cafe; (second row) blueberry-infused waffles topped with blueberries, strawberries, homemade whipped cream, and strawberry sauce (I asked for a side order of chocolate sauce) at a lovely brunch place in Hoboken; a $32 burger stuffed with ribs, foie gras, and black truffles at db Bistro Moderne in NYC; the Bananas for Bananas dessert at Bryant Park Grill (served with an interesting salted peanut ice cream); (third row) the steak that came with a $10 set lunch in Little Italy, a raspberry hazelnut chocolate chunk cheesecake (a.k.a. Evil on a Plate) from Roxy, a Gray's Papaya dog–served by a kabayan!
LABELS: A Taste of...Everything, All I Want for Christmas, Mariko