By franco on 2 November, 2008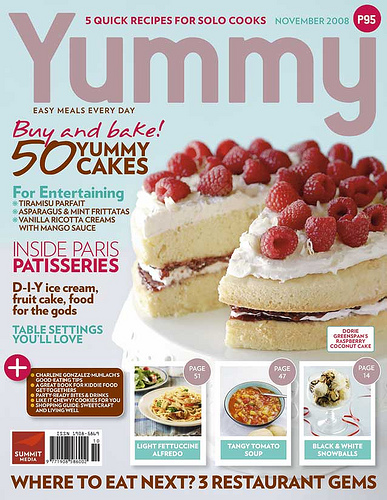 Yummy's November Issue
There are many things I credit to my wife.
Learning the importance of moisturizing. Understanding the need for multiple pairs of black shoes. And developing a love for excellent design and color. But the one foodie thing that I have learned from her that I most appreciate is a taste for the sweeter things in life, desserts.
Before A, I was a savory kind of a guy, more than willing to skip dessert for another serving of pork chops (except for ice cream, I have always loved ice cream). After A, let's just say that there hasn't been a dessert I have not tried at least once. Now, I even call some desserts favorites.
Whether you are a sugar-high obsessive, a recent dessert convert or an occasional pastry nibbler, we recommend that you pick up a copy of this month's Yummy Magazine: The Dessert Issue. Besides being chockfull of both sweet and savory recipes (as always), Yummy has a list of the very best cakes available in the Philippines that will make you want to lick the pages.
Get a copy of Yummy. Your sweet tooth will thank you for it.

LABELS: Dessert, November, Table Suggestions, Yummy