By franco on 30 November, 2008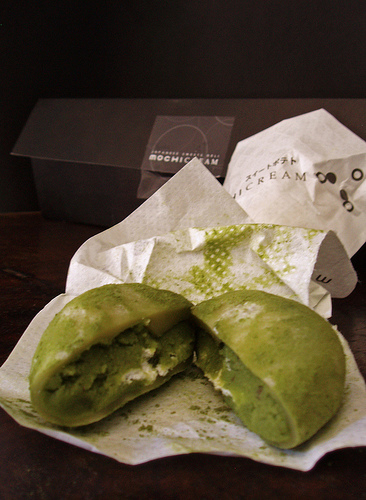 Green Tea Mochi from MochiCream
I am a MochiCream convert.
After a recent trip from Japan, my lovely wife, A decided to bring me back a little gift, a pasalubong, as Pinoys call it. Packaged in an elegant, black rectangular box were eight delicately wrapped sweet buns called mochi.
Usually created during New Year celebrations, mochi is a traditional Japanese confection. Following tradition, each mochi is primarily made of finely ground glutinous rice and formed into a dainty little bun surrounding a sweet center of red mung bean paste.
But a confection maker called MochiCream sees the mochi in a different light.
As only a Japanese confection maker could do, MochiCream has taken the traditional and elevated it to a whole new level. By adding new flavors and stylizing their retail experience, the buying and savoring of mochi has more in common with shopping for jewelry than going to a bakery. From an egg custard cream to a cherry-flavored center to creamy filling flavored with green tea, the variety of flavors and colors seem endless.
Biting into a mochi is like nibbling into a cloud releasing a dew drops of sublime flavor. The bun itself is soft and airy with a light feel in the mouth. As you bite into it further, the bun melts away into sweetness as it releases its inner secret filling: in this case, a sweet green tea paste with a slight taste of tea bitterness and the unmistakable aroma of warm green tea filling your mouth.
At that point, I realized that I have never been to Japan. After my little taste of this quintessential Japanese snack, I think I am long overdue for a visit.
For more information, check out their website.
LABELS: Mochi, MochiCream, Table Conversation