By franco on 16 November, 2008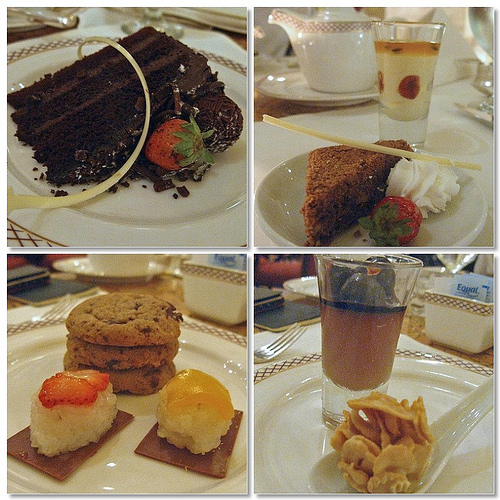 from top left, clockwise

Heavenly Moist Chocolate Cake, Chocolate Walnut Brownies and

White Chocolate Mousse with Passion Fruit, White Chocolate Stones and Chocolate

Panna Cotta with Brandied Cherries, Strawberry and Jackfruit Nigiri and Chocolate Chip Cookies
I am not one for sweets.

While I am no stranger to the pleasures of deeply-flavored chocolate, my main preoccupation has been always the savory. A myriad of chocolate desserts can cause some to uncontrollably salivate. But for people like me, the experience can be a bit daunting. So for all of you who do not call yourselves chocoholics, this post is dedicated to you.
Here are my tips for enjoying a Chocolate Buffet:
The buffet is not as big as I expected it to be. But it is nonetheless impressive. An array of chocolate desserts is arranged on lovely, almost elegant displays. Cookies and cakes, mousse and fondue. A seemingly endless choice of chocolate in all shapes, sizes and forms.
Standing in front of the chocolate buffet, I mumble to myself, "Where the heck do I begin?" I pause, take a breath and begin to walk along the tables, taking in the view. My first tip: Start with what you know.
I begin with something small, something familiar, a couple of White Chocolate Stones. Served on a Chinese soup spoon, this dessert is a cluster of cornflakes covered in white chocolate and formed into ball-shaped stone. Because I love white chocolate and because it also reminds me of Chocolate Clusters, my taste buds just seem to gravitate to it. I take my first bite. The taste is of creamy sweet condensed milk, quickly followed the satisfying crunch of morning cereal.
The sugar starts running through my body. The rush is kicking in.
Hotel buffets are like the mother of all tasting menus. They are an opportunity to savor the creations of talented chefs from around the world without leaving a single restaurant. There are a numerous number of chocolate desserts to enjoy and you don't want to fill yourself up too quickly. So my second piece of advice is: Take your time. Pace yourself.
With a nice sugar rush going, I turn my attention to the shooters, the White Chocolate Mousse with Passion Fruit and the Chocolate Panna Cotta with Brandied Cherries. Both desserts are light and airy and yet so different in character. The White Chocolate Mousse is delicately sweet with a creamy milk consistency. The passion fruit lends a tangy zing to this dessert, giving it a greater depth of flavor. On the other hand, the panna cotta has a dark, bittersweet flavor, punched up a deep burnt essence of brandied cherries. Both are scrumptious but as a matter of personal preference, I like the white mousse more.
For the most part, the buffet was going well. The Chocolate Chip Cookies and Chocolate Walnut Brownies weren't exactly to my liking (I found the cookies a bit too crisp and the brownies weren't very fudgy) but they were still a joy to nibble on in between sips of Earl Grey Tea. The only "what the heck were they thinking?" moment was when I sampled the Strawberry and Jackfruit Nigri. These little mounds of glutinous-like rice are topped with a single slice of fruit, and then mounted upon a thin piece of chocolate. The mimicking of sushi made this dessert attractive on the display but biting into one was like eating badly-executed suman with a chocolate chaser as an afterthought. This experiment gone wrong was not the brightest moment of the buffet.
The evening is getting late and the rush is beginning to wane. But I decide to cap my evening with a last hurrah. Something comforting. Something I truly love. I scoop myself a large dollop of Double Dutch Ice Cream. A vanilla ice cream streaked with strips of dark chocolate and peppered with the crunch of nuts was the perfect ending to my chocolate buffet experience. Delicious. Now, it's time to go home and fall into a sugar-low induced slumber.
Eating for the most part is a biological necessity. But when sitting down to a Chocolate Buffet, it's all about the bliss. Sitting down to dessert should ideally be a communal event, sharing the delight of friendly company and delectable fare. My last word of advice: Bring a Friend. A dining experience like this should always be shared.
For the Buffet Only: Adults: PhP 550+++, Children: PhP 225+++.

Available on Fridays and Saturdays from 9:00 pm to 12mn, until the end of December.



Tsokolate Ah: The Chocolate Buffet

The Peninsula Manila

Ayala cor Makati Avenue

Makati City 1226

Metro Manila

Telephone: (02) 887 2888, extension 6694

E-mail: pmn@peninsula.com

LABELS: Chocolate Buffet, Death by Chocolate, Franco, Peninsula Manila, Restaurants