By franco on 4 October, 2008
Gravy Meatball Sliders from The Little Owl

I love the small and unassuming.
In recent years, there has been a growing emphasis in the local restaurant scene (or at least in the food media) toward the small, tapered-down restaurant–the corner neighborhood restaurant that is diminutive in seating space and menu options but is big on delivering appetite-whetting flavor. Given my long-standing and well-documented bias, it is a trend that I have no problem embracing with an open stomach.
Case in point, The Little Owl. Owned and operated by Chef Joey Campanero and his partner, Gabriel Stulman, this modest West Village eatery was an immediate culinary hit. Within the first two months, hordes of the food-obsessed were lining around the block for a chance to savor Chef Campanero's take on new American cuisine. Needless to say, going to this restaurant was high on my New York to-do list.
After an initial stumbling block, we finally got our corner table at this corner restaurant. It's a cool, sunny Sunday morning and within minutes every table is filled with hungry diners. Although the crowd can be a bit alarming (tables are so close, you're almost a part of the other table's conversation), the view through the large glass windows of tree-lined streets and charming brownstone townhouses makes you forget the hustle and bustle of this busy restaurant.
While A. opts for more standard brunch fare of Poached Eggs with Braised Greens, covered in creamy hollandaise sauce, I requested for Little Owl's well-loved dish, the Gravy Meatball Sliders. Served on a long, white serving plate, these diminutive sandwiches are a gentrified version of a meatball sub. Meatballs of ground beef, pork and veal are sandwiched in between a soft garlic bun, covered in a tomato-based gravy and sprinkled with shavings of pecorino cheese. The sliders are a bit of messy eat as I bite into them. But as the meatball juices and gravy dribble down my fingers, I can't help but think, so this is what they mean by, 'finger-licking good'.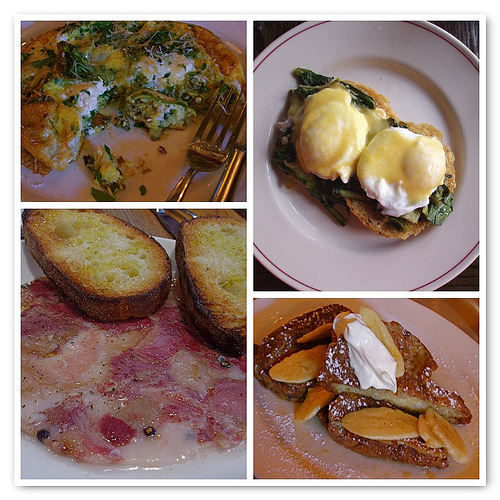 from top left, clockwise
Frittata with Summer Squash,
Mint, Ricotta,
Poached Eggs with Braised Greens,
French Toast with Bananas and Bourbon Syrup, Pork Cheek and Beef Tongue Terrine
Another small restaurant gem is the oddly-named
The Spotted Pig
(rumor has it that it is an homage to one of its owners, Chef Mario Batali).
They call it a gastropub–with a heavy emphasis on the gastro. Since its opening in 2004, Chef April Bloomfield has been creating dishes above and beyond the normal pub grub. By creatively blending English comfort food with Italian technique and flavor, The Spotted Pig has been stuffed with diners who just can't get enough. It looks and feels like an English pub, decorated with an odds-and-ends sensibility: well-worn wooden chairs and tables, a new bar made to look like it has seen better days, hunting and fishing poster art adorning the walls and a collection of ceramic and wood pig figurines of all shapes, colors and sizes.
The morning we visit, the place is packed, teeming with activity. Families, friends, couples and singles at the bar, all enjoying the morning, all savoring their brunch repast. I'm in the mood for eggs and although I usually prefer my eggs on the runny side, choose to try their frittata. But not just any open-faced omelet–a Frittata mixed in with Summer Squash, velvety Ricotta Cheese and garnished with fresh Mint. How could I possibly resist? My frittata has a mildly crisp exterior and yet a soft, eggy smooth interior. But what is striking is the freshness of the ingredients: the nutty bite of the summer squash, the delicate saltiness of the ricotta and the cool, astringent zing of mint.
On the other side of the table, A. is loving her dish, a French Toast covered in sliced Bananas and sweetened with sweet Bourbon Syrup. Sadly, I didn't get to taste. A wasn't in the mood to share. Soft but not soggy. Sweet but no overly so. Sublime but packed with levels of tastes. A exclaims it's the best she has ever had.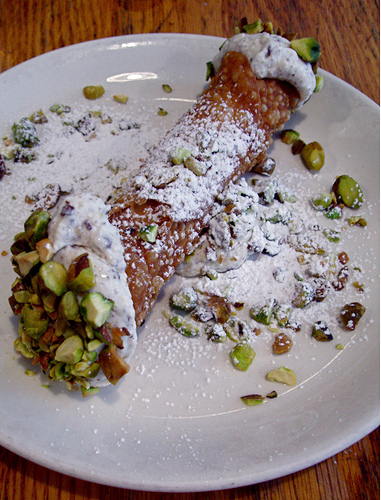 Pistachio Canoli from Franny's
The lush greenery of Central Park, the high-end shopping on Fifth and Madison Avenues, the business buzz of Midtown, the bohemian chic of the Greenwich Village. When most visitors think of New York, the images that come to mind are mostly of Manhattan. But New York is so much more than just one borough. With the price of a subway pass and a little bit of an adventurous spirit, a new New York experience and wider perspective on the city can be yours. On this trip, A and I decide to cross to the borough beyond the East River, Brooklyn.
While A concerns herself with the new and wonderful retail possibilities, I'm looking for something slightly more rustic and definitely more gastronomically inclined–pizza. The search for the perfect pie is a local obsession. The debate is passionate and never-ending, making the choice on what to try somewhat difficult. As I google away, searching for the quintessential Brooklyn pizza parlor, I stumble upon this restaurant with a very mom-and-pop name, Franny's.
Owned by the husband-and-wife team of Chef Andrew Feinberg and Francine Stephens (the restaurant is named after her), Franny's has been serving up a menu of Italian favorites with a certain urban panache rarely seen at your regular pizza joint. The vox populi have their reservations about this restaurant (mostly about pricing and sometimes, the service) but they rarely complain about the food and after reading Frank Bruni's review, I decide that Franny's will be our culinary rest stop during our Brooklyn excursion.
We arrive early hoping to score a table near the open kitchen–I like watching my pizza get tossed, topped and baked. Although it's an hour before regular lunch service, Franny's is full. Luckily, tables are turning over and we are seated with only a very short wait. We start our meal with an unusual dish, the Pork Cheek and Beef Tongue Terrine. Served with slices of rustic bread, this terrine is reminiscent of a large, thinly-slice piece of salami. Speckled with piece of smoked tongue, spots of pork cheek fat and cracked black peppercorns, the terrine melts in your month, releasing a fragrance and a flavor that I only can describe as a carnivore's wet dream.
A and I love anchovies. So choosing a pizza is a no-brainer. We order a thin crust Pizza garnished with tomatoes, anchovies, chilies and Parmigiano Reggiano. Our pizza arrives at our table directly from the wood-burning brick oven, bubbling hot. The blistering hot crust is crisp to the bite with a smokey charred aroma. The sweetness of the tomatoes contrast and complement both the saltiness of the anchovies and heat of the chilies while the generous shavings of Parmiagiano Reggiano round out these flavors to a lovely medley.
As if that wasn't enough, we decide to end our Franny's experience with a serving of their Pistachio Canoli. I love pistachios. I love this stuffed Italian pastry. With an overflow of pistachio cream oozing out of its crusty shell and healthy layering of crushed pistachios, how could I not love this dessert?
Small in size. Huge on flavor.
There are more fancy restaurants in New York but my heart (and stomach) will always be with the little guys. Now, if I can just get used to practically sitting on my fellow diner's lap, I would be good to go.
The Little Owl
90 Bedford Street
New York City, New York
Tel: (212) 741 4695

The Spotted Pig
314 W 11th Street
New York City, New York
Tel (212) 620 0393
Franny's
295 Flatbush Avenue
Brooklyn, New York
Tel: (718) 230 0221
LABELS: Franny, The Little Owl, The Spotted Pig, The Travelling Table