By franco on 15 October, 2008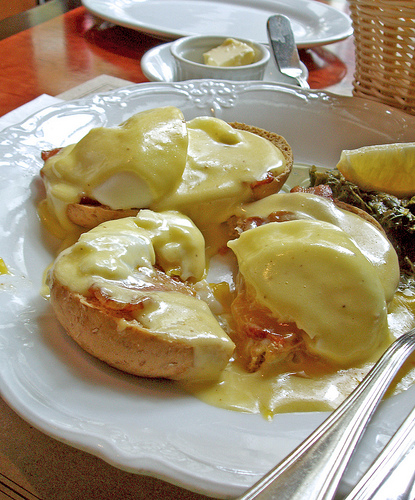 Eggs Benedict from Mamou
Call it a hangover.
You would think after a month of breakfasts and brunches, we would tire of it all. But apparently not.
There are restaurants that you go to, have a delightful meal but have no desire to return to again. There are those restaurants you visit once and after a horrible dining experience, you swear never to return. And then there are places like Mamou that for whatever reason, you find excuses to go back to, over and over again.
Food that is warm, comforting and uncomplicated. Service that is friendly, efficient and yet unobtrusive. And interiors that just make you feel at home. These are the reasons why guests return and also why it is highly recommended that you make reservations before your next visit.
If that's enough reason to come back, then how about a new menu? A Brunch Menu.
Every weekend, Mamou opens an hour early (10 am, Saturdays and Sundays) to serve up brunch staples, mixed in with some unusual Mamou creations. For our visit, we keep things simple and ordered the Eggs Benedict (P395). In a word, delicious.
Maybe it's not a hangover after all. But more like a rekindled love for brunch.
Thank you to ChichaJo for giving us the brunch heads-up. And many thanks to Erik for showing me the tricks of the trade.

Mamou: A Home Kitchen
Unit 1C-15
Ground Floor, Serendra
Fort Bonifacio, Taguig City
Telephone: (o2) 856-3569
Celephone: (917) 816-2668
Email: mamou@info.com.ph
LABELS: Brunch, Mamou, Table Suggestions