By franco on 7 October, 2008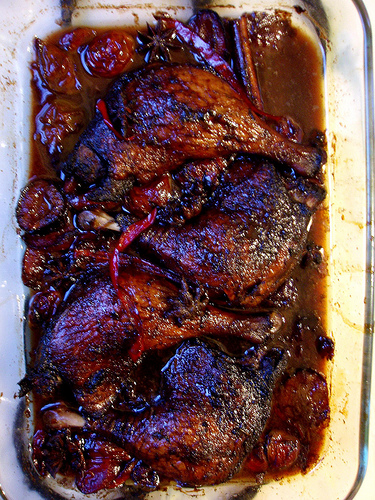 Sweet Duck Legs cooked with Plums and Star Anise
It's our last few days in New York.
W, our most gracious host, wants to take us out to dinner–our last hurrah before we board that stifling cocoon we call an airplane for home. As much as I would love to savor W's favorite Italian trattoria, I ask if he wouldn't mind if we have dinner at his place instead. Happily, he agrees.
New York is every foodie's dream. Besides, having every conceivable kind of restaurant, New Yorkers have the privilege of having access to some of the best produce the world can provide. However, my interests are more local. The Farmer's Market at Union Square was such an awe-inspiring experience. The array of fresh, organic and locally-grown produce would inspire any cook, professional or otherwise. I'm one of the 'otherwise'.
I'm obsessed about duck. So once I found a purveyor selling unique poultry meats at the farmer's market, I knew exactly what I going to cook for dinner. Jamie Oliver, the man who introduced the joys of home cooking to so many of my generation ,apparently loves duck himself. And in his recipe of duck braised in plum, cinnamon and star anise sauce, this love comes through.
Sweet Duck Legs cooked with Plums and Star Anise
Adapted from Jaime Oliver's Jamie's Dinners

4 legs of duck
4 tablespoons soy sauce
3 teaspoons five-spice powder
a handful of star anise
½ stick of cinnamon
1 tablespoon olive oil
2 fresh chilies, deseeded and sliced
16 plums, halved and destined
2 tablespoons brown sugar

In a medium-sized mixing bowl, combine the soy sauce, five-spice, star anise, cinnamon stick and olive oil. In a large Ziploc bag, place the duck legs along with the soy sauce/spices mixture. Seal the bag and marinate the duck legs overnight in the refrigerator.

In a roasting pan or casserole, place the chilies, plums and sugar. Pour the marinade out of Ziploc bag and into the roasting pan or casserole. Mix the ingredients together with your hands and carefully layer the plum mixture evenly across the bottom of the pan/casserole. Place the marinated duck legs on top.

Place the pan in a preheated oven at 170 C/325 F. Roast the duck legs for 2 ½ to 3 hours or until the meat easily pulls away from the bone. Once done, remove the star anise and cinnamon stick. Check the plum sauce for seasoning and add a bit more soy sauce if necessary. Serve immediately.

Serves 4
Straight from the oven, served directly on to the table, this dish is truly a delightful one-dish wonder. Because of the slow cooking, the duck meat easily pulls away from the bone–soft, tender and full of flavor. The skin caramelizes and transforms to a crackling crispness. As the duck roasts, the plums begin to break down, slowing imbibing the essences of star anise and cinnamon–creating a sauce that is reminiscent of a sweet-tangy hoisin sauce. I don't like tooting my own horn but, this dish was simply delicious. Thank you, Mr. Oliver.
It might be a while before I return to New York. There is so much of the world yet to explore. I love New York. But lately, I've been craving chicken adobo and sinangag.
It's time to come home.
Many thanks to W. for welcoming us to his home and letting this wannabe chef take over his kitchen. And to my lovely A, thank you for sharing this experience with me and letting me have my way – some of the time. 🙂

LABELS: Sweet Duck Legs cooked with Plums and Star Anise, Table Recipes