By franco on 18 October, 2008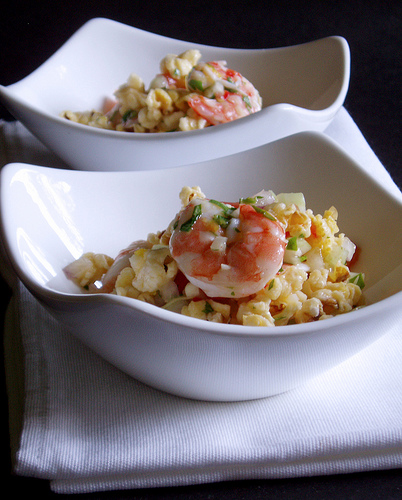 Shrimp and Popcorn Salad
"A popcorn what?!"
My wife asked incredulously, probably wondering if all those headstands had finally damaged my brain. A's reaction is not completely without reason. Honestly speaking, who would have thought that it was even possible to make a salad out of popcorn?
I didn't. But I was intrigued enough to try out this recipe.
Yummy magazine's Chef Jun-Jun De Guzman (who learned this dish from Chef Richard Ruben, the Green Market Guru) emphasizes two points: to let the citrus dressing stand of at least two hours (I recommend overnight) to help develop the mixture's flavors and to use popcorn with no flavorings, artificial or otherwise.
For your information, I substituted the recommended lime juice with lemon juice. I just couldn't find limes anywhere. Also, I lessened the shrimp by half from the original recipe and added 1 ¼ cup of popcorn. I'll explain about the popcorn later.
Shrimp and Popcorn Salad
Adapted from Yummy Magazine, October issue

2/3 cup fresh orange juice
1/3 cup fresh lemon juice
2 teaspoons minced garlic
1/3 cup finely chopped red onion
3 tablespoons extra-virgin olive oil
500 grams shrimp, shelled and deveined
1 bundle spring onions, finely chopped
1 piece bird's eye chili, finely chopped
1 tomato, seeded and cubed
1 cucumber, cubed
¼ cup cilantro leaves, finely chopped
2 cups cooked microwave popcorn, natural
salt to taste

In medium bowl, mix together the juices, garlic, red onions and olive oil. Place in a refrigerator overnight to allow their flavors to develop.

Once the shrimp has been shelled and deveined, place them in steamer. Once the shrimps have turned a bright orange, remove immediately. Cooking time is about three minutes.

Dress the spring onions, chili, tomato, cucumber and shrimp with the juice mixture. Season with salt then add the cilantro leaves. Chill.

Just before serving, toss the shrimp mixture with the cooked popcorn. Serve immediately.

Serves 4
When you toss the dressing with the popcorn, something unexpected happens. The popcorn absorbs the citrus mixture and shrinks. Thus, it is imperative that you serve this dish immediately or else the popcorn will become too soggy. And the taste? Essentially, it is citrus-flavored seafood salad. But what truly makes this dish unique is the texture of the popcorn–a slight crunch with an orange-lemon zing.
My mother said never to play with my food. But she never said not have fun while cooking.
Enjoy.
LABELS: Shrimp and Popcorn Salad, Table Recipes, Yummy