By franco on 25 October, 2008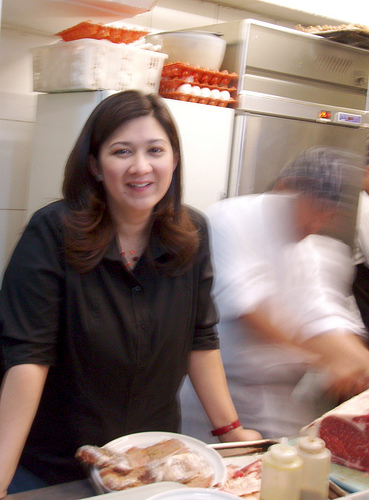 Chef Marivic Diaz-Lim

Remember Tribeca? How about Ñ? If you remember these places, then you would very familiar with the creations of Chef Marivic Diaz-Lim, chef and owner of the ever-popular Apartment 1B. After taking a break to attend to more domestic affairs, Chef Diaz-Lim decided to return and open this restaurant that has become a mecca for food that delights the stomach and warms the heart. Pure comfort food at its very best.

Who in your life has influenced your cooking the most?

My Grandma Anita and Auntie Deanna are the people in my life that influenced my cooking. I grew up watching and helping them prepare home cooked meals for our Sunday lunches.

Which book has had the biggest impact?

The New Professional Chef Book which was one of the textbooks assigned to us while I was in the Culinary Institute of America in Hyde Park. It had the biggest impact since it was the first professional cook book I read in the beginning of my learning experience in the field of Culinary Arts.

What was your first job in the food business?

My first job after graduating from the CIA in 1993 was as a Commis chef at the Mark Hotel in NYC.

When did you decide you wanted to open Apartment 1B?

I decided to open Apt. 1b around the time my son turned 1 year old. I had been in the restaurant business since 1996 and went on a break when I got married in late 2003. In 2006 I realized that I needed to fulfill my passion, which is cooking.

What is you favorite item on your menu?

It is my Honey-Bourbon Baby Back Ribs but having said that I love everything I cook.

Which restaurant meal (foreign or local) do you remember the most?

I can't name just one restaurant meal. In general, my dining experiences in Paris are most memorable.

Besides your own place, what is your favorite restaurant in Manila?

Right now it is Shinjuku on Makati Avenue, it is where I have my Japanese comfort food like tempura, gyoza, fried rice and wakame salad.

What junk food do you love?

If you consider ice cream as junk food, it's Haagen Dazs and for real junk food, it's Clover chips (original cheese flavor).

Is there a food you just can't seem to enjoy?

Yes, I can't seem to enjoy raw food (sashimi, oysters etc.). I also do not enjoy spicy food too much.

Just between us, what are your future plans?

I plan to expand my business concept abroad.
Apartment 1B
Unit 1B G/F One Lafayette Square
132 L.P. Leviste cor. Sedeno Sts.,
Salcedo Village, Makati City
Tel. (02) 843-4075
LABELS: Apartment 1B, Marivic Diaz-Lim, On The Table