By franco on 11 October, 2008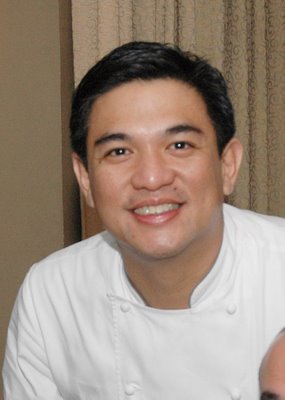 A graduate of the University of
Massachusetts and Culinary Institute of America,

Chef J Gamboa

is a third generation chef/restaurateur. Not only does he continue his family's culinary tradition
by managing some of Manila's most beloved restaurants like

MilkyWay

,

Tsukiji

and

El CirKulo

but he is also heavily involved with the award-winning Philippine
Les Toques Blanches
Culinary Team
.
With his sister, Malou, Chef Gamboa recently opened

AzuThai

, a restaurant that serves Thai food in classic, home-cooked tradition.

Who in your life has influenced your cooking the most?
I can't name a particular person. Travel and experiencing different foods, ingredients and cultures are where I get ideas for menus and recipes. If there is a particular place that influenced me though, it's New York, the food mecca of the world! I think you will agree with me. Just can't beat the quality, variety and the drive of the chefs and purveyors over there. I have my parents to thank for instilling in us kids the value of work.
Which book has had the biggest impact?
Books, not one in particular. I find myself reading more chef bios than cookbooks lately. My first cookbook though was the
NY Times Cookbook
by Craig Claiborne. I must have done at least half of the recipes there even before deciding to go to culinary school. I guess that is the book that started me off.
What was your first job in the food business?
In the summers and weekends while growing up, my sibs and I were always at my mother's restaurant, Milkyway. We would "work" lunch there. My elder sisters would work on the cash register or man the candy stand. I would hang out in the dessert bar, pouring shakes of avocado or mango into tall glasses or scooping crushed ice onto almond gelatin eggs or canned peaches and fruit cocktail.
When did you decide you wanted to open AzuThai?
We decided to open a Thai Restaurant to replace Azuma-ya Japanese Noodle House last October 2007 on a recent trip to Bangkok. We were about to renovate Azuma-ya, then decided it would be better to open a new concept altogether.
What is your favorite item on the your menu?
The Gai Ka Pow, a stir-fried minced chicken with chili and basil leaves with a side order of fried eggs, sunny side up–which is really 'deep' fried eggs. Awesome and always hits the spot!
Which restaurant meal (foreign or local) do you remember the most?
Breakfast at
Tsukiji Market
in Tokyo,
Kaki Furai
(breaded oysters), fresh
Uni Donburi
(fresh sea urchin on rice),
Miso Soup and Pickles
served by a charming old lady in a little restaurant that was the size of a one-car garage.
Lunch at the Ginza restaurant of Rokusaburo Michiba, Iron Chef Japan, with Fernando Aracama and Mr. Toshi Utsonomiya, the president of the All Japan Chef Association. The menu was straight out of the Iron Chef Japan TV show, which always seemed a little strange to me. But it somehow worked flawlessly on all levels.
Besides your own places, what's your favorite restaurant in Manila?
Lolo Dad's Cafe
,
Shang Palace
,
Restaurant Cicou
(opening soon!),
Sun Moon,
Terry's Selection
(Pasong Tamo).
What junk food do you love?
I try not to eat junk food.
Sayang
calories. Haha.
Is there a food you just can't seem to enjoy?
Insects and reptiles, in general.
Just between us, what are your future plans?
Working on further developing AzuThai as the everyday Thai restaurant.
Going to Erfurt, Germany next week to watch the Culinary Olympics, together with our Les Toques Blanches (LTB) Culinary Team Captain, Ariel Manuel (Lolo Dad's Cafe) and LTB Director Fernando Aracama (Embassy Cuisine). We'll see if we can field a team for the next Culinary Olympics in 2012.
Next year, we will send the LTB Culinary Team to Hong Kong in May and Bangkok in October for competitions. LTB is our chefs' association. It is the Philippine member to the World Association of Chefs' Societies (WACS), the United Nations of chefs' associations, so to speak.
Many thanks to Lori for helping make the connections
AzuThai
G/F Milkyway Building
900 A. Arnaiz Avenue cor. Paseo de Roxas,
Makati City
Telephone: (02)817 6252 or (02) 813 0671
LABELS: J Gamboa, On The Table