By Mariko on 31 October, 2008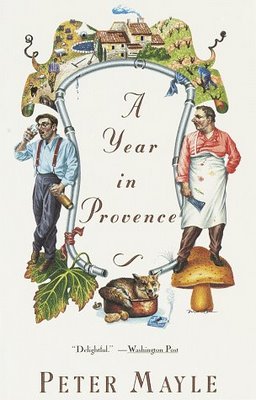 I much prefer fiction over non-fiction books. Perhaps it's because reading is something I prefer to do on my down time as a diversion, and therefore, I want it to be escapist, in a big way. I am a big fan of magic realism, and realized lately that I'm drawn to stories set in the past, or in a different world (hello, Tolkien)–times and places that I can't go back to or experience myself.
When a friend lent me A Year in Provence by Peter Mayle some years ago, I suppose I was a bit skeptical. It chronicled twelve months out of the life of an Englishman and his wife, who uprooted themselves from their home country to live in the south of France. But after the first page, I was drawn in. Any book that starts with the line, "The year began with lunch" is bound to capture my interest!
Each chapter is about one month in Provence–the husband and wife's experience of moving into a 200-year-old farmhouse, their having to deal with neighbors and a multitude of guests in summer, and, of course, the glorious things that they ate. The book is perhaps one of the most entertaining restaurant guides out there, and it's dangerous to read it when you're hungry. A sample in the first chapter, January, where the couple had dinner at a neighbor's:

"It started with homemade pizza–not one, but three: anchovy, mushroom, and cheese, and it was obligatory to have a slice of each. Plates were then wiped with pieces torn from the two-foot loaves in the middle of the table, and the next course came out. There were pates of rabbit, boar, and thrush. There was a chunky, pork-based terrine laced with marc. There were saucissons spotted with peppercorns. There were tiny sweet onions marinated in a fresh tomato sauce. Plates were wiped once more and duck was brought in. The slivers of magret that appear, arranged in a fan formation and lapped by an elegant smear of sauce on the refined tables of nouvelle cuisine–these were nowhere to be seen. We had entire breasts, entire legs, covered in a dark, savory gravy and surrounded by wild mushrooms.

"We sat back, thankful that we had been able to finish, and watched with something close to panic as plates were wiped yet again and a huge, steaming casserole was placed on the table. This was the specialty of Madame our hostess–a rabbit civet of the richest, deepest brown–and our feeble requests for small portions were smilingly ignored. We ate it. We ate the green salad with knuckles of bread fried in garlic and olive oil, we ate the plump round crottins of goat's cheese, we ate the almond and cream gateau that the daughter of the house had prepared. That night, we ate for England."
Thoroughly engaging, often humorous, and above all, mouth-watering, A Year in Provence changed my mind about reading–and traveling. It was then that I decided that anywhere I went, I would eat well. See, I stick to a budget whenever I travel, and in the past, this meant surviving on the most affordable things that I could find (including–gasp!–canned goods). But no more of this nonsense. I realized that to fully experience a new place, one must experience the food.
And if Mayle's book is any indication, Provence offers one of the richest, most delicious travel experiences out there. Oozing with escapism, the book prodded me to add the south of France to my list of dream destinations. And when I get there, mark my words: I shall eat for the Philippines!

LABELS: A Year in Provence, Good Enough to Eat, Mariko, Peter Mayle