By franco on 12 September, 2008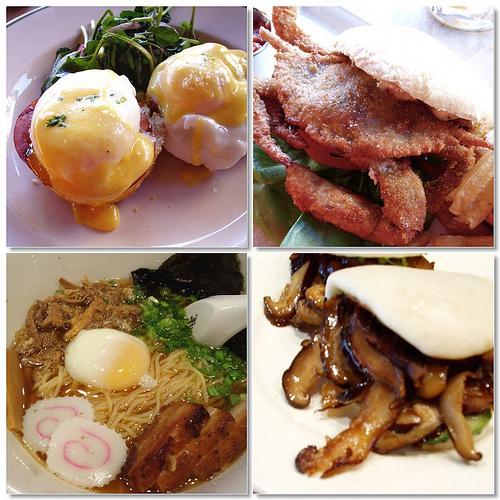 from top left, clockwise
Poached Eggs on Parma Ham, Soft Shell Crab Sandwich
Streamed Shiitake Buns, Momofuku Ramen
Greetings from New York!
There is Paris. There is Tokyo. There is Hong Kong. There is Italy or even Spain. You can debate with me on this. But for me, few places make this food lover's heart sing (and my stomach growl) like the city of New York. The confluence of vast amounts of wealth, a creative pool of culinary talent, access to a cornucopia of ingredients and a craving for good food has made this city what it is today. A birthplace of delectable gastronomic trends. A magnet for yearning foodies from around the world (including myself).
Day one in New York. Since it is our first morning in the Big Apple, A and I decide to sleep in a bit longer than usual (to recover from the horrendous airline journey), forgo the usual morning breakfast and instead indulge in that oh-so-New York institution called brunch. The plan? To find our way to the West Village and the little restaurant of the moment,
Little Owl
. Once at the doors, we were met with a sad sign, "closed for renovations." While we stand on a corner, lamenting our plight and trying to figure out our plan B, a man approaches us. Seeing our obvious disappointment, he suggests trying a restaurant a few blocks down called
Market Table
instead. A and I thank him as we hungrily make our way to plan B. (Later, I realize that our good samaritan was none other than
Chef Joey Campanaro
, chef/owner of the Little Owl. More on him later.)
Chef Camapnaro and his Little Owl's partner, Gabriel Stulman recently opened this charming eatery hoping to create a place that is equal parts restaurant and retail space. With the help of head chef, Mike Prince, Market Table services American comfort food at its best. The restaurant has a industrial loft-like feel to it. Dark walls, exposed high ceilings, large street-side windows, butcher block tables contribute to creating a light and comfortable atmosphere. One could not possible ask for a more ideal brunch venue.
After some discussion with our helpful, ever patient server, A and I settled on two dishes. I love Egg Benedict for brunch. And since I'm looking for something familiar, ordering the Poached Eggs with Parma Ham and Braised Spinach was a no-brainer. An oozing amber yolk, lightly salted slice of ham, warm crusty muffin base and topped with decadently smooth, custard-like hollandaise sauce, Market Table's version was exactly what I needed. From my traditional order to A's more whimsically delicious one, the Soft Shell Crab Sandwich was a complete surprise. We were expecting a variation on the crispy crab cake but what landed on our table beyond what we could have anticipated–a whole crab in a bun staring back at us. Legs, claws and shell are deep-fried to lovely golden brown, served on bed of lettuce and sliced tomatoes and squeezed into a crusty roll. This sandwich is a handful but once it reaches your mouth–it is crunchy, crab nirvana. The best way to describe it is like biting into a crab-flavored Mentos–light and crisp on the outside, sweet and succulent on the inside.

Sunday rolls around. As we struggle to overcome an annoying case of jet lag, A and I meet up with our New York-based friend, W. After quick tour local food markets in and around Union Square (W is writing a paper on organic food retail), we head off to do what Pinoys do when they get together. We eat.
W. recommends we try Momofuku Noodle Bar. One item of my New York to-do list is to visit at least one Chef David Chang restaurant (currently, there are three). After reading so much about this James Beard awardee, I have come to admire Chef Chang. Being the noodle fanatic that I am, it would be sacrilegious if I didn't dine at one of his restaurants on this trip. I enthusiastically agree.

Born out of a stint in a ramen house in Japan and his love for all things pork, Chef Chang created Momofuku Noodle Bar. Relatively small and simply adorned, the restaurant has become quite the culinary phenomenon for noodle-crazed New Yorkers. More often than not, this place is packed. They don't take reservations and the line sometimes stretches out their front door and down the road. But since we arrive early for the dinner service, we are able snag seats at the ramen bar without much of a fuss.
First on the list to taste, the much talked about Steamed Buns. At Momofuku Noodle Bar, they offer three varieties: chicken, shiitake and pork. We settle on the chicken and mushrooms. Each variety prove to have its personal charms. The steamed buns are soft, light and easy to the bite. The pulled dark chicken meat, formed into a patty and fried to a golden-brown exterior, is crunchy, moist and flavorful. A perfect chicken sandwich. On the flipside, the shiitake were sublime. Thin cuts of soft, sauteed shiitakes are coated in fruity, yet slightly spicy sauce and stuffed in airy buns. Subtle in flavor but with just enough sweet-spiciness to keep things interesting. Personally, I enjoyed the Steamed Shiitake Buns more.
If you are going to noodle bar, you obviously have to order the noodles. We order two kinds. First, the Momofuku Ramen. A large steaming bowl of pork broth filled nearly to brim with delicious ingredients : thin ramen noodles, slices of succulent pork belly, shredded beef, a soft boiled egg, a generous sprinkling of spring onions and a piece of dried seaweed or nori for some contrast texture. This bowl of ramen is scrumptious and perfect for a cool, fall evening but I can't say I am completely bowled over by this signature dish. In contrast, I gush delicious over the Bibim Gooksu. Of late, I have been on a cold noodle fix (I'm tired of burnt tongue) so having this traditionally Korean dish was not a difficult decision. Somen noodles, coated in a sweet-spicy kimchi-like dressing, are topped with variety of delectables like slices of cucumber, a light fried egg, fine juliennes of nori and small bars of roasted sesame seeds. Uncomplicated, well-balanced in both flavor and texture and with an intriguing sugary-hot zing, this Bibim Gooksu is straightforward deliciousness in a bowl.

My food adventure is only the beginning. There is more to come.
Market Table

54 Carmine St at Bedford St

New York, NY 10014

Tel: (212) 255 2100
Momofuku Noodle Bar

171 First Ave.

nor. 11th St

New York, NY 10003

Tel: (212) 777 7773
LABELS: Market Table, Momofuku Noodle Bar, New York, The Travelling Table