By franco on 19 September, 2008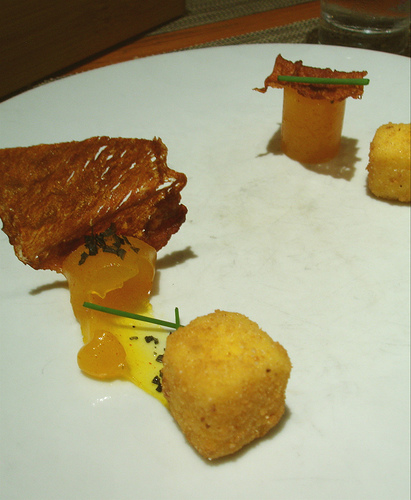 Wylie Dufresne's Eggs Benedict
I am endlessly fascinated with food.
The tastes, colors, textures, smells and even the sound of food can (and often does) transport me to wonderful (and sometimes unusual) places with a simple spoonful. My experiences with food have been mostly pleasant. I've also had my share of nightmares. But there have been moments, rare moments, that sitting down to a meal can be comparable to watching a perfectly executed pirouette or listening to an uplifting operatic performance. Savoring every bite. Experiencing every taste. Basking in the light of gastronomic genius. These moments are rare but they do happen.
And then there are restaurant experiences like Chef Wylie Dufresne's WD-50 that simply turn your understanding of food upside down, challenging your senses and your ideas of what is considered delicious in the most delightful ways.
One of the leading advocates of Molecular Gastronomy, Chef Dufresne and his team create dishes by using scientific, chemical and mechanical techniques that seem to test the bounds of what food should look, taste or even feel like. Early on, there were criticisms that Chef Dufrense was more concerned about 'playing with his food' than providing his guests with an experience that they could understand and appreciate as delicious. It has been five years since WD-50 opened. In my opinion, any traces of the early rebellious, uncompromising experimentation has now matured into a restaurant that still explores the bounds of gastronomy but now provides an amazing experience for their foodie guests.
I will admit two things. First, WD-50 is not for everybody. Some will find the food outrageous and inedible while others will find every mouthful beyond wonderful. And a few will be simply dumbfounded by the entire experience. My advice? Simply come with an open mind, a willing palate and the readiness to take it all in. Second, I don't have a complete grasp of how or why are these dishes are created. I imagine relatively few people do. But I understand what I enjoy. And I enjoyed this meal at WD-50.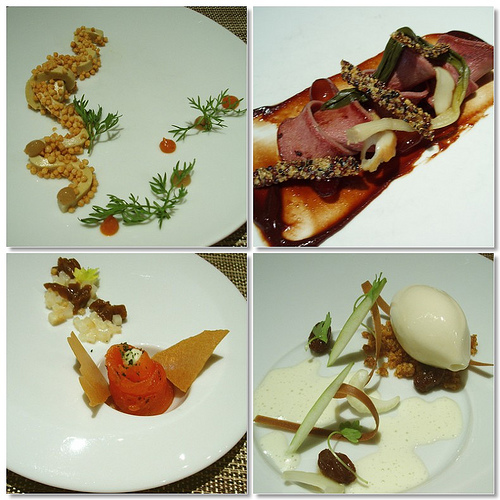 from top left, clockwise


Foie Knot,
Beef Tongue in Cherry-Miso Sauce,


Dessert Waldorf Salad, Salmon Amuse Bouche
During our tasting menu, there were dishes that were beautiful on the plate but too odd in flavor and texture to be completely appreciated. For example, the amusingly named

Knot Foie,

a dish of foie gras formed into a knotted rope and covered rice crisps. Others were not only elegantly plated but also echoed familiar flavors from home. For example, the

Beef Tongue in a Cherry-Miso Sauce

that reminded A and I of a lovely beef dish in deep, rich hoisin sauce. And there are other courses that were simply beyond words like Chef Dufresne's take on the brunch staple,

Eggs Benedict.

The Eggs Benedict was a challenge of form. The ham was cooked into thin wafer-like chips. The eggs were formed into yellow gelantious tubes that melted upon contact with our mouths. The hollandaise sauce was fried into crispy cubes that when cut oozed with a creamy velevet-like sauce. Taken together, these components created a dish so comforting in its familiarity and yet, an amusingly unusual sight to behold. Another dish that made us laugh with glee was the

Waldorf Salad

. It's not a salad but an amazingly creative dessert. It starts with a green apple ice cream accompanied by a sweet mayonnaise, slices of celery, twills of grape, nougats of brown sugar and walnuts and raisins. It is a plate that is not only gorgeous but also a delight to savor.

Works of a genius or madman? Like all things culinary, it is a matter of personal preference and choice. But one thing is for sure, Chef Dufresne and his creations will never be labeled uninteresting or uninspired.

If Chef Dufresne's mother ever told him never to play with his food, I'm glad he didn't listen.
50 Clinton Street

New York City

New York 10002

Tel: (212) 477 2900