By franco on 8 September, 2008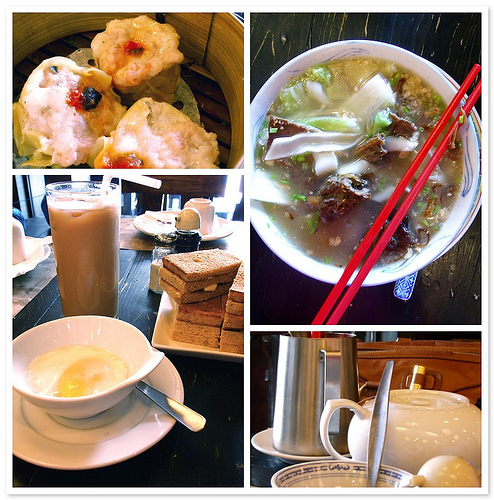 From top left, clockwise



Jumbo Pork Siomai, A Trio of Morning Hawker Favorites,

Table Scene at Old Chinatown Kopitiam, Duck Noodle Soup.


Note: The Three will be taking a bite out of breakfast this month. We will be checking out a few restaurants that serve that usually-ignored meal of the day. Enjoy.


It's a slow, sunny Sunday morning and we are hankering for some brunch.
But instead of the ho-hum morning of cold cereal or eggs and toast, A and I are thinking of something a little different. There has been a growing interest in Nonya hawker-style cuisine lately. Restaurants looking to bring to their guests the genuine hawker experience (or at least food) seem to steadily be growing in number. One of the newer additions, Old Chinatown Kopitiam (OCTK), is one of those restaurants.
As you approach the mecca of after-sale car parts, Banaue Avenue, be on the lookout. This Chinese-styled cafe is minute, to put it mildly. Nestled between an inn and chicken inasal grill house, this kopitiam tries to emulate the coffee shop of old it was named after. Worn wooden chairs and tables, antique wall decor and Chinese paper lanterns contribute to creating a comforting feeling, transporting guests to a Nonya coffee house of a by-gone time. The only thing missing is a group of craggy, old men sitting in a dark corner, drinking their steaming hot kopi and smoking their pipes as they exchange stories of years gone by.
This morning, OCTK is not full but there is a constant flow of people coming and going. Families, couples and a customers looking for some take-out, all keeping the waiting staff busy and on their toes. A warning: if you drop-by on Sunday, make sure you have time. This place is not about speed. Sit back, relax and enjoy a glass or two of the condensed milk sweetness of the
Nai Cha

or Milk Tea (P65)
. Your food will eventually show up.
First at our table, a plate of Kaya-Peanut Butter Toast (P68) along with an accompanying soft-boiled egg (P28). It doesn't get anymore typically Nonya than this. Kaya, a green custard-like jam, made with coconut milk and flavored with pandan is generously spread on buttered toast. Not stopping there, the kitchen added a dollop of thick, chunky peanut butter. Sweet and savory. Crunchy and creamy, this dish alone (eaten with a bowl of eggy goodness mixed in with a bit of soy sauce and white pepper) makes the long, mid-morning trip worth it.
This morning, I feel like slurping down some noodles. Scanning the menu, I am torn between the Beef or the Duck Noodle Soup (P168). I'm a sucker for most, if not all, duck dishes. The moment of conflict is brief. To keep things interesting, I request to forgo the usual stringy egg noodles and try the thick, white kwey teow noodles instead. Sadly, this bowl of noodles was a disappointment. This dish lacked a certain oomph in duck flavor. The duck broth was uninspiring. And what I thought was meat turned out to be mostly braised duck bones. Maybe I would have been better off ordering the bowl of beef instead.
Luckily, our meal finds redemption in a bamboo steamer of Jumbo Siomai (P98). Jumbo isn't a menu hyperbole. These steamed dumplings of mixed pork are significantly larger than the norm. It is so substantial in fact, that it was a bit of strain to lift them with chopsticks alone. But once handled and dipped in some light soy sauce, each mouthful makes one long for the next one and the next.
They say that breakfast is most important meal of the day. Most of the time, it can be a bit dull. But with the ever-growing variety of dining options available, breakfast doesn't always have to be a repetitive bore.
Now, please excuse me while I make myself more of that Kaya-Peanut Butter Toast. Yum.
Old Chinatown Kopitiam

86 Maria Clara Street

Barangay Santo Domingo

Quezon City

Tel: (02) 415-1145

Cel: (0922) 889-7752

E-mail: oldchinatownkopitiam@yahoo.com

LABELS: Franco, Manila, Old Chinatown Kopitiam, Restaurants