By Stitch on 28 September, 2008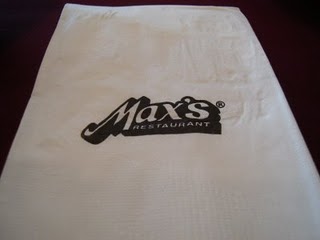 Note: The Three will be taking a bite out of breakfast this month. We will be checking out a few restaurants that serve that usually-ignored meal of the day. Enjoy.
Filipinos love breakfast. How else can we explain the sheer number of establishments that offer "all-day breakfast" items on their menus? Case in point, Max's restaurant, best known for their fall-off-the-bone chicken (which is really good) offerings, in a little corner of their menu, a selection of Filipino breakfast favorites available any time of the day. Why is this?
Filipino breakfasts aren't for the weak. Particularly the uniquely Filipino creation of silog. I have not seen another country with a breakfast consisting of meat, eggs, and fried rice. These meals are by no means light, fluffy affairs. Instead, silog is geared towards providing the typical Filipino with plenty of protein and energy to be able to deal with the rest of the day.
With that in mind, my little brood and I decided to tackle a typical Filipino breakfast in what can be considered an iconic Filipino restaurant.
Who hasn't been to a Max's at least once in their life? The restaurant has been around since the 1950s, which they currently parade proudly on their walls, which are lined with old postcards and photographs of days past. I was particularly taken by a picture of their old menu, which offered chicken dinners for P 5.00 and had such offerings as bourbon and scotch on their beverage list. Times have changed, and yet Max's is still here. Too bad the bourbon did not make it.
Max's offers a small breakfast menu (we went to a branch that didn't offer the expanded breakfast menu; apparently not all the branches offer that selection) of tapsilog, longsilog, tocilog, adobo flakes-silog and boneless bangussilog. I decided to get the sirloin tapsi and my wife ordered the adobo flakes-silog. We also got a bowl of arroz caldo for my son.
The Tapsi was very good, with the traditional flavors of salt, sugar, and vinegar carrying through the sirloin. As expected, the sirloin was a bit tough; the expected result of the sugar marinade. I also found our sunny-side up eggs overdone, the yolks were cooked through, probably the result of pouring hot oil over it. That never really bothered me much, though. That was how most places did their eggs.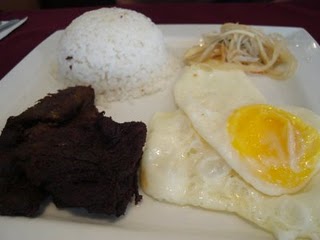 Beef Tapa
My wife's adobo flakes were also well cooked, as should be expected from a chicken place. The flakes were definitely cooked as adobo first, then fried to make them crisp, the wa. They were cooked well enough to be just crisp, not burned. Again, overdone eggs. But it was also a good breakfast fix.
What was surprising was the arroz caldo. Where was the arroz? It was watery and thin, and despite the broth and chicken being generous, we were both wondering where the rice went. Arroz Caldo is supposed to be a type of porridge, which needs rice to give it that nice consistency. This definitely was not that. I'm not sure if it was because it was early in the morning and they did not have enough ready or if this was how they always did it. It was surpring, either way. My wife resorted to taking some rice from her order and adding them to the bowl. I know there's a rice crisis (isn't there?) but really. Just call the thing chicken soup if it's going to be that thin.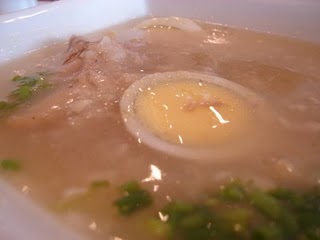 Arroz Caldo
I love breakfast, honestly. I'd survive on variations of silog for the rest of my life. Max does a decent job of it, to be fair. The sirloin tapa was as expected, and so were the adobo flakes. They can't seem to manage a good arroz caldo, though, which is a shame. But will I go back to Max's for breakfast? Maybe not. I feel as if they were being asked to stretch their expertise a bit and maybe they stretched a little too far.
Is it hopeless? Hardly, in fact, like I said, it's decent. But I'd go somewhere else for my silog fix, there are places that do it better (and cheaper). Or maybe I'd just whip up some myself, in the comforts of my home.
All day breakfasts are here to stay and Max is one of those who can do one to meet expectations. But don't expect much more than that.
Max's Restaurant
Multiple branches nationwide
Click here for the branch nearest you
LABELS: Manila, Max's, Restaurants, Stich