By Mariko on 30 September, 2008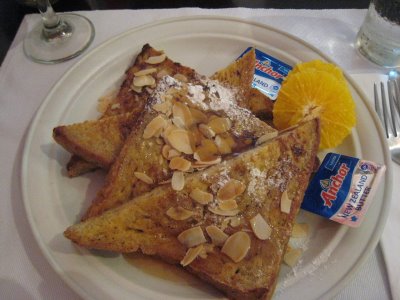 Note: The Three will be taking a bite out of breakfast this month. We will be checking out a few restaurants that serve that usually-ignored meal of the day. Enjoy.
I love breakfast.
Among all the meals throughout the day, it is perhaps the most laid-back and the least pretentious. Maybe it's because breakfast-takers are still too bleary-eyed to put on airs, and breakfast-makers don't have the luxury of time to prepare something uber-fancy. The thing I probably like most about breakfast food is that it's simple, but it gets the job done.
Take for example Apartment 1B's Orange French Toast (P220). It's whole-wheat bread infused with a subtle citrus-y flavor, and topped with toasted almonds for good measure. The almonds provide an interesting contrast to the soft bread, and balance the sweetness of this standard breakfast offering. Totally unfussy, totally satisfying.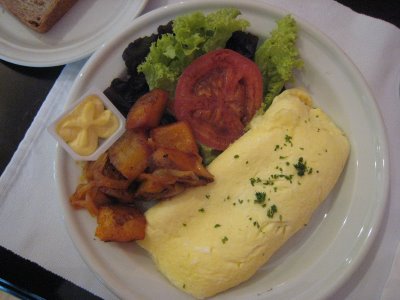 And the
Three-Egg Omelet
(P340). You get to choose three fillings; I opted for Canadian ham, spinach, and Swiss cheese. Potatoes and onions accompany it, in place of the usual hash browns. And with three eggs, you can probably meet your protein requirement for the day!
My best friend and I enjoyed all these over an unhurried meal one Saturday morning. We caught up with each other, telling mundane stories of our lives over uncomplicated food. There was none of the excited, sometimes inebriated, chatter over dinner. None of the stress that comes with meeting up over lunch in the middle of a workday. There was just familiarity and comfort; we simply enjoyed each other's company–and the gratifying, if somewhat pricey, food–in a relaxed setting (with attentive waiters at the ready).
I love breakfast.
If only I could get up early enough for it every morning!
Apartment 1B
Unit 1B G/F One Lafayette Square
132 L.P. Leviste cor. Sedeno Sts.,
Salcedo Village, Makati City
Tel. (02) 843-4075
LABELS: Apartment 1B, Manila, Mariko, Restaurants