By franco on 21 August, 2008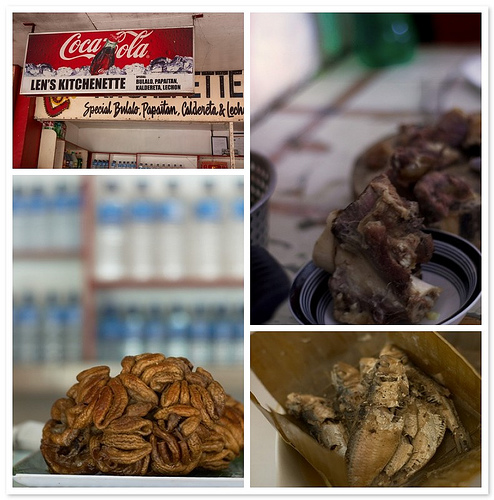 from top left, clockwise



Len's Kitchenette, Beef Bulalo, Paksiw na Tawillis, Fried Isaw


Erik and I are lost.
We think we are somewhere between Amadeo and Tagaytay. My photographer friend and I are on a job, trying put together a story that seems to be going nowhere quick. Finally, lunch rolls around. We need the break, badly. With our bruised egos and sore legs, our guides finally lead us to the Mahogany Public Market and to a little eatery called Len's Kitchenette.
Len's Kitchenette is small roadside place connected an open-air public market. Nothing fancy here. Just a bunch of white, wooden tables, a glass case displaying the day's deep-fried specials and several stainless steel chafing dishes filled to brim with saucy, savory delicacies. In true turo-turo fashion, there are no menus here. Guests come up to the counter and choose from the myriad of dishes prepared by Len and her girls for the day.
While hungrily awaiting our food, I take in the surroundings. The place is packed. But, these aren't your typical, city-weary Manilenos. I realize truck drivers, salesmen, market vendors and families of shoppers—regulars and local diners—surround us. A food lover's tip: when in a strange town or place, follow the local crowd. We are definitely in the right place. On the touristy side of Tagaytay, the view is of beautiful vistas of the green, rolling hillsides and the serene waters of Taal Lake. At Len's, the view is of butchered meats, sides of pork and beef hanging on display in front of the public market. Grotesque for some. Endlessly fascinating for others.
A couple of minutes later, our food arrives. It's simple fare, really: beef shanks stewed in a beef broth and seasoned with fish sauce, tawillis (a small, local fish) wrapped in banana leaves and cooked in a vinegar-ginger soup and pork intestines, deep-fried to crackling scrumptiousness (doesn't it look like a brain?). Local food enjoyed by Pinoys everywhere, everyday. But what really captivates me is where we are and what we are doing. Eating outdoors. Surrounded by locals, loving their food. Chowing down on food sourced from nearby farms, bought from a local market, next-door and cooked on-site. It doesn't get better than this.
Our story maybe lost. But as least, Erik and I had a delicious lunch and great photos to prove it.
PS. I am fascinated by the fact that Pinoys eat everything on a cow or pig. It's not always about the ribeye or pork chops, people.



Once again, many, many thanks to Erik Lacson for making the everyday look amazing.



Len's Kitchenette

Mahogany Public Market

Tagaytay City
LABELS: Len's Kitchenette, Mahogany Public Market, Tagaytay, The Travelling Table