By franco on 18 August, 2008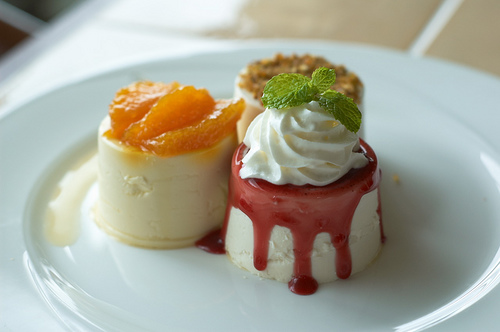 I'm not big on desserts (with obvious exceptions, of course).
I'll leave desserts to more passionate bloggers (Hello, Lori). But I love what I love. And I love this dessert.
It is called Panna Cotta Heaven from Restaurant Verbena, Tagaytay.
I've talked about it before. But this is the only time (of the many, many times I've had this dessert) that I've gotten a (more than) decent photograph. Why do I love it so? Simple elegance. These little white towers are pretty much run-of-the-mill cooked cream. But what makes this dessert special is not what's at the bottom but what's on top: Saffron and Carnal Oranges. Black Pepper and Raspberries. Lemon Balm and Pistachios. Every panna cotta is a different flavor, a different texture and a different delight. A trio of simple deliciousness.
A. and I adore this dish. So much so that when in Tagaytay, we never miss a chance to drop by Verbena, order a plate and revel in the scrumptiousness of this heavenly dessert.
You can argue with me if you wish. But I'm taking a stand. This is the best panna cotta in the Philippines. For me, this dessert always comes first.
Many thanks to Erik Lacson for capturing heaven on a plate.
Restaurant Verbena
Discovery Country Suites
300 Calamba Road, San Jose, Tagaytay City
4120 Philippines
Telephone: (63 46) 413.4567
E-mail: rsvn@discovery.com.ph
Website: www.discoverycountrysuites.com
LABELS: Panna Cotta, Table Suggestions