By franco on 10 August, 2008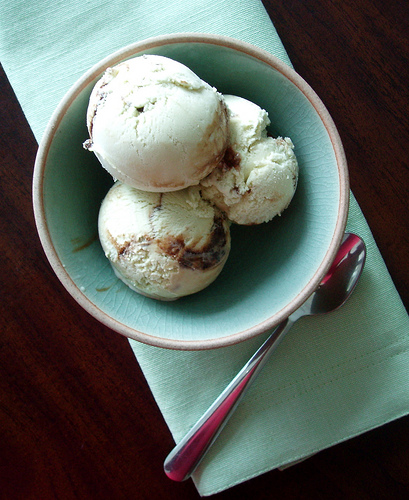 How could I say no?
During Sunday family dinner, my eight-year-old niece S. comes up to me. "Tito, can you make me a mint-choco chip ice cream?" she coyly asks with her bright puppy-dog eyes. What can an adoring uncle say with smile but "of course"?
Here is the rub. I have never made a mint-chocolate chip ice cream nor have I ever had any intention of making a mint-chocolate chip ice cream. Until now.
I have a few of issues to clear up. First, food coloring or no food coloring? Most fruits or herbs tend to only provide a very muted coloring to the ice creams they flavor. Thus, most commercial ice cream makers mix in food colorings to these types of ice creams to enhance the visual experience. If you believe in the adage that you first eat with your eyes, then you cannot completely disagree with this practice. When it comes to desserts, our minds always associate intense colors with vibrant flavorings.
Next, how to flavor this ice cream: Fresh Mint or Peppermint Oil? It's really a question of taste and cost. Peppermint oil, ounce for ounce, is not cheap. In fact, a minuscule bottle (which probably contained less than a tablespoon) cost me more than I would care to mention. But on the plus side, just few drops go a long way, infusing a strong, astringent flavor in any mixture. Fresh mint leaves are a more natural and cheaper alternative. However, it requires a bit more work (and whole bunch of mint leaves) to achieve the same level color and taste of ice creams that use oils and artificial coloring.
On both points, I decide to go with the fresh stuff. What mint leaves lose in convenience, they gain back in subtlety of flavor, texture and color.
Lastly, chocolate chips or another chocolate form? Traditionally, the chocolate ingredient of this ice cream comes in the form of chips. I've done numerous mix-ins before from pieces of dark chocolate Toblerone to spicy nuts to chocolate chip cookie dough. I'm tired of mix-ins. Instead, I decide try something new: a deep, dark chocolaty fudge ripple.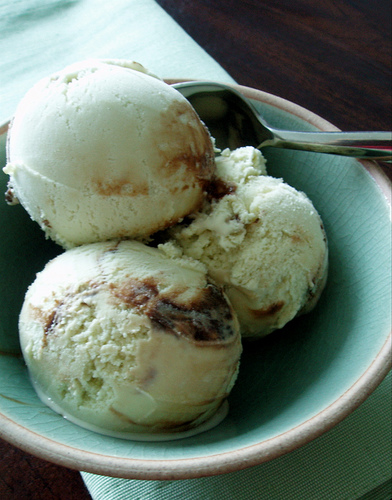 Fresh Mint Ice Cream with a Fudge Ripple
Adapted From David Lebovitz's The Perfect Scoop

For the Fresh Mint Ice Cream

1 cup whole milk
1/4 cup sugar
2 cups heavy cream
3 cups lightly packed fresh mint leaves
5 egg yolks
Pinch of salt

In a saucepan over low heat, mix together the milk, sugar, a cup of the cream and salt. Bring to low oil, and then add the mint leaves. Immediately remove from the heat, cover and let it infuse for about an hour.

Strain the mint-milk mixture through a strainer. Press on the strained mint leaves to extract as much liquid flavor from them as possible. Discard the mint.

Rewarm the strained mint mixture. In a mixing bowl, whisk the egg yolks. In a slow, steady stream, mix in the warm mint mixture in the yolks, stirring continuously. Transfer the mint-egg mixture into a saucepan.

Over the medium heat, constantly stir the mixture until it easily coats the back of the spoon. Pour the custard through a strainer into a bowl and combine with the remaining cream.

Cool the custard over an ice bath. Stir constantly.

Chill the mint custard in the refrigerator and then freeze it in your ice cream maker according to the manufacturer's instructions.

Makes 1 liter

For the Fudge Ripple

1/2 cup sugar
1/3 cup light corn syrup
1/2 cup water
6 tablespoons unsweetened Dutch processed cocoa powder
1/2 teaspoon vanilla extract

In a saucepan over medium heat, mix together sugar, corn syrup, water and cocoa powder. Constantly stir until the mixture low boil.

Cook for another minute and then remove from the heat. Mix in the vanilla extract and cool. Completely chill the fudge mixture in the refrigerator.

Mixing in the fudge ripple is simple. As you move the freshly churned ice cream to its storage container, carefully layer the fudge sauce in between layers of ice cream. Do not stir the ice cream or fudge.

Make 1 cup
A few of days after delivering the ice cream to my niece, I get a text. "Thanks, Tito. It was really, really good. Can you make some more? :-)" signed S.
I will never be fan of mint ice cream. But part of the joy of making ice cream has always been about sharing the creamy fruits of my labor with loved ones. And besides, I'm a sucker of the sound of a heartfelt, satisfied yum.
LABELS: Fresh Mint Ice Cream, Fudge Ripple, Table Recipes