By franco on 26 August, 2008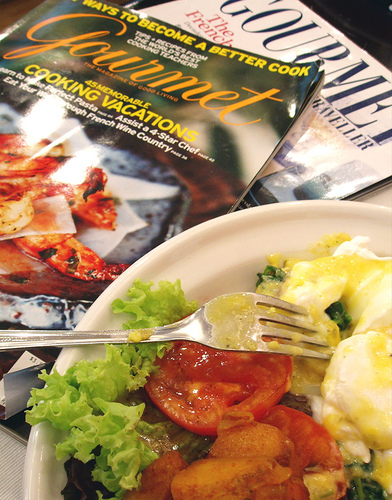 Travel Planning over Brunch
Food and Travel.
Over brunch, A. and I are hatching a plan. We are trying to figure out our interary for a little trip, we've been discussing for a while now. As our departure time grows near, working out the details as been, shall we say, interesting — mostly because of differing agendas. A. is interested in what plays to watch, museums to visit and of course, shopping. As for me, (no surprise) it's all about the food. While in negotiations with my dear wife, I couldn't help but wonder where my fellow foodies travel to for the food and otherwise.
So the question is where were your favorite food trips? Both local and foreign. Where did you go? What did you eat?
Mariko says:
Local

I'm a big beach lover so

Boracay

is always good. I go to

Real Coffee

every day when I'm there! Love the Jack-a-Lean Omelet, cold chocolate, calamansi muffins, cookies… I also have my daily shake at J

onah's

. When I'm on tipid mode, I just have a choriburger from the ihawan stations and I'm good to go. (My mind has just switched to vacation mode…)

Foreign

Bangkok! You could spend your whole time there eating and you still won't run out of food options. I had a truckload of ice cream while I was there (see Franco's old entry about Bangkok ice cream). I reaaaally liked the pomelo salad at Jim Thompson Cafe, pasta at this Thai fusion place called Greyhound Cafe, and the value-for-money street food!
Wysgal says:
Local

In Boracay, the grilled seafood in Paradiso Grill (known as Paraiso Grill the last time I checked) and the calamansi muffins in Real Coffee are favorites. In Tagaytay, I love everything on the menu at Antonio's, and all the omelettes in Breakfast at Antonio's. And no trip back home to Manila is complete for me without a visit to Pancake House and an order of Mix + Match Combo 2 (taco, spaghetti, PanChicken) and a side order of banana pancakes.

Foreign

I'm a grad student in Philadelphia these days, and post-night out food cravings are best satiated with a cheesesteak from 24-hour Pat's or Geno's at the Italian Market. Other favorite Philadelphia haunts are Midtown Continental, Sang Kee in Chinatown, the Reading Terminal Market, and Morimoto. In Hong Kong (one of my favorite cities in the world), I always try to go for high tea at the Peninsula Hotel, dimsum in City Hall, and roasted goose in Yung Kee.
Anonymous Paul says:
Basically, I try to make every trip a food trip. Whether here or abroad, I like going to where the locals go, or ask around what they consider good places. I love markets, street food carts, dives, shop houses, diners and hawker centers. The list is long but we'll go with the most recent ones:

Local

I can't say I've had any local food trips recently but I did go to Davao a few weeks back, where the seafood's consistently really fresh and cheap. Like a whole tuna jaw for about P150, in a good restaurant at that. Or squid the size of a burly man's arm for the same price. The best thing is they know how to grill right. I have this friend there who always makes me eat tuna testicles; which I can't say I tastes like anything but definitely has texture. Fruits are abundant as well.

So I guess these stuck out for me because of the pure flavors. All just simply prepared food if you look at it; inexpensive even. But ingredients used are of the best quality. All prepared with love and/or tradition. and that makes all the difference, really.

Foreign

I'm not a lechon lover but I had the most fabulous babi guling (roast pig aka lechon) in Bali at this place called Ibu Oka in Ubud. The whole day-trip was centered on having lunch at this warung (food stall) and I was not let down. This place lovingly roasts only a handful of pigs a day and does so with great skill. the meat moist and never greasy; every square inch of skin blistered in smoky crispness. A portion consists of steaming white rice piled with shredded meat and generous portion of crackling. on the side are deep fried innards (chicharon bituka), blood sausage and the token vegetable. then all is topped with the house sambal sauce. I would drive for hours everyday to have a meal like this.

In a most recent Bangkok trip I visited some favorite shop houses and stalls of fabulous northern thai food. Grilled pork neck, sausages, somtam poo (papaya salad with raw crablets), laarb (ground meat salad) and of course sticky rice. really traditional/provincial food prepared with great pride. I also love those yeng tau foo type stalls and noodle shops. And Nam Prik Kapi; this fiercely spicy shrimp paste sauce served with steamed vegetables and fried mackerel. Commonly found in sidewalk eateries and, surprisingly, "hi-so" restaurants like Greyhound Cafe. Great all-day, one-dish meals.
Hundred Pound Foodie says:
Local

Sagada, Mountain Province – freshly made yoghurt at Yoghurt House, the crispy fried chicken at Masferre Resto, mountain tea (made from what to me looked like big dried guava leaves haha) and kape arabica. Simple fare but the cool mountain setting made everything taste delicious.

Amanpulo, Palawan – Gulai kambing, the softest braised lamb shank, kaffir lime leaf, lemongrass and fresh coconut milk. Pero sa totoo lang, it was the beef burger — char-grilled lean beef patty, caramelized onions, tomato, cucumber, pickled beetroot, lettuce and fries — that got me swooning. And the iced tea! It was a long boat ride from the resort to the picnic island. When we got there, the boat driver/guide/server brought out the food from the picnic basket. Then I saw him pull out this tall, dewy glass of iced tea complete with a dense froth (as though it just came out of the shaker) and a straw! Parang magic.

Sta. Rita, Bulacan – Pork isaw at roadside store Thorellie's. The only isaw I eat and like — savory, chewy and no stinky. Dipped in a "magic sawsawan" (a vinegary concoction that has turned brown from repeat dipping of charred barbecue sticks, marinade/fat/oil drippings and only-God-knows-what). They say Thorellie's sawsawan is so good that someone actually nicked one bottle (eh bote yun ng nescafe na walang takip). Fresh coconut juice in cheap plastic cups completes the experience.

Dubai, UAE – Raw lamb kidney at Lebanese Bistro, many years ago. Fresh (slaughtered that morning I was told). The minced meat looked baby pink, mixed with lots of spices. Traumatic first (and last) taste but secretly, I actually thought it was good.

Malacca, Malaysia – my first lone travel and first foray into Nonyan cuisine. Of all things, I remember how much I liked kangkung belacan (a very simple side dish made of kangkong and shrimp paste, paired with a fish dish). Just what I needed because I missed home.
ChichaJo says:
Local

Bicol – I don't think I expected to be as enamored as I was with the cuisine when I visited Bicol. I mean, I love laing, always have, but I don't think I (nor my best friend K) was prepared for just how much we would fall in love with the local fare. We were like ravenous dogs, devouring laing, Bicol Express, and pinangat at every turn. The creamy coconut milk paired with the heart-stopping spice of their cuisine is a combination that is not to be missed.

Pampanga – They don't claim to be our culinary capital for nothing. Yup, Pampanga can afford to brag. Aside from dining establishments serving the fantastic local food (like Claude Tayag's) you also have the multi-cultural offerings of it burgeoning food scene. There is everything from great Italian restaurants to incredible steaks which I have yet to try, a good Thai place (Kingdom) opened by Chef Sau…even an Eastern European place. My favorite so far (and knowing the plethora of restaurants in Pampanga who knows for how long!) is Zapatas, the Mexican place on Fields Ave.

Foreign

Bangkok – What is not to love about a place where you cannot get a bad meal? Bangkok's deliciousness oozes out of every nook and cranny of this crazy city! I love eating in little hole in the wall places, or streetside, where you get the most bang for your bhat. I love som tam (papaya salad), green checken curry, their fried fish, tom ka gai…but really, everything bangkok has served up I have loved.

Greece – I was based in Greece for two months and I can say that I never tired of the food. No cravings for home-cooked meaks and rice. No longings for adobo and sinigang. The more Greek food I ate and more I wanted. It helps that Greek street food, like gyros, costs less than eating at a fastfood chain, so if you're on a budget (which I was) it is heaven. Look for the gyro stalls that have big roasting ovens when they roast everything from chicken to stuffed rolls of juicy meat. When I needed something really hearty my favorite dish to have was lamb youvetsi (braised lamb with orzo). And baklava! Impossibly sticky honey and nut heavyweights…divine! In the islands I loved to have kalamares or grilled octopus with lemon. And on a hot afternoon…Nescafe frappe!
Lori says:
Foreign

Vietnam – When I was in Vietnam last June, my sister and I, we're both durian freaks, decided to go to the local market instead of joining the rest of the family for an afternoon nap. We chose two big durians that intoxicated us with their pungency and asked the stall owner to place it into two styrofoam containers. Without warning, it started to rain. Hard. We watched in amusement as Vietnam's mass of motorcycle riders whipped out — almost in unison — uniform baby blue plastic raincoats. My sister and I huddled near the makeshift roof that the durian fruit vendor had constructed. Deciding to wait out the rain instead of getting drenched, my sister and I huddled in a corner near the fruit stall, perched on Vietnam's ubiquitous Monobloc stools and decided to snack on the durian. By some stroke of good fortune, there was an electric fan near us, providing some ventilation. With the durian that was divine on all counts, we couldn't have asked for more. We were almost sad when the rain let up and we had to go back to the hotel. Of course we had to buy another durian for the family because we ended up polishing off two durians!

Chardonne, Switzerland – Food is the reason I travel, but it's those unexpected little joints that provide me with the most delicious memories. One of the them is a charming little neighborhood eatery called Café Au Bon Vin, a place recommended to me and my husband, Bindoy by the concierge at the hotel. A family-run place, it boasted of homemade sausages — fat, juicy, horseshoe-shaped, the stuff hotdogs wish they could be. And the fondue. My god, the fondue! Made with Emmenthal and Gruyere, it came to the table, a steaming cauldron of creaminess. I want to weep just remembering it. So etched in our memory is the meal that we go back there one last time, on my birthday, our last day in Switzerland.

Kyoto, Japan – Kobe beef sukiyaki. Need I say more?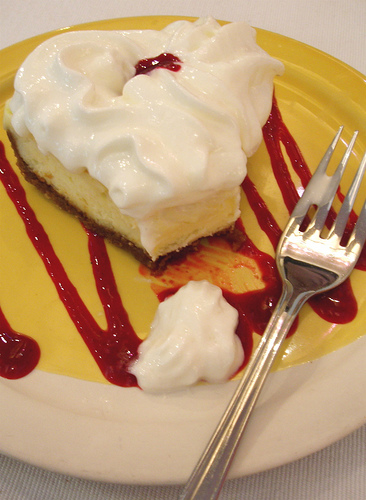 Food Porn: White Chocolate Cheesecake from Apartment 1B
What does Apartment 1B's delectable White Chocolate Cheesecake have to do with the topic at hand? Absolutely nothing.
Sometimes, it really is just about the food. Yum.
Many thanks to Mariko, Wysgal, Anonymous Paul, Hundred Pound Foodie, ChichaJo and Lori