By franco on 14 August, 2008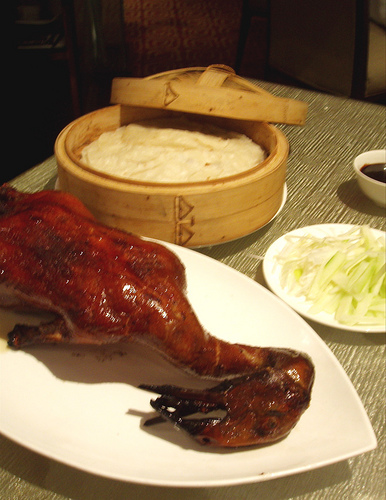 The Peking Duck at the Shang Palace


Hooray for the Beijing Olympics!
OK. Reality check, please. I'm not much into this much-awaited sports spectacular. In fact, while the rest of the world was home watching the Opening Ceremonies, we were at the mall– shopping. While A. went on a shoe frenzy, I was debating the forms and functions of wooden spoons at Gourdo's (I'm working on my spoon collection). Feasting on Peking Duck is usually reserved for special occasions. But since these circumstances are few and far between, I find myself making up any lame excuse to invite friends to dine on this much celebrated dish. A month before my birthday–eat Peking Duck. The dog decided not to do his business indoors– eat Peking Duck. A. is having a great hair day–eat… You get the picture.
Since the media is bombarding us with all aspects of Chinese life and culture this month, why not partake in the spirit of the Games by tucking into a dish that I consider the height of Chinese culinary artistry? Makes sense to me. And apparently, it made sense to several of our friends as well.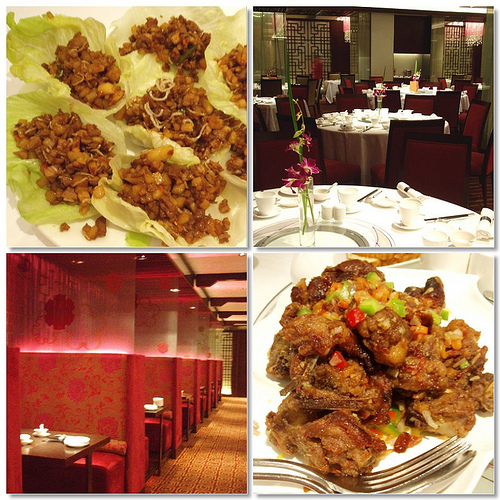 from top left, clockwise


Minced Duck in Lettuce Cups, Tables at the Shang Palace,


Spicy Deep-Fried Duck, Dining Booths at the Shang Palace
Our place of choice for our Peking Duck indulgence is
Shang Palace.
I usually don't talk about hotel restaurants but this restaurant is exceptional. Located at the Makati Shangri-La, Shang Palace is admittedly pricey. But the high standards of service, the eye-catching interiors and of course, the delicious Cantonese delights make this restaurant a 'Shangri-la' of Chinese gastronomy.
One ground rule for our lunch, we order nothing else except Peking Duck with one exception–a simple vegetable dish of
Stir-fried Spinach with Garlic.
It is our oasis of healthy eating in our blissful sea of guilty pleasure. We ask our server, Rey, to prepare our duck three ways. In that way, every part of the duck is used. Nothing will be wasted. Fifteen minutes later, a small side table is wheeled in. On top, our glistening, maple-brown roasted duck is ready to fulfill its culinary destiny.
After cutting way into the skin, Rey, with practiced hands, begins the assembly of our first way, Duck Skins wrapped in Lotus Leaf Pancakes. On a thin steamed pancake, he spreads a thin layer of sweet hoisin sauce. On top of the aromatic sauce, Rey arranges a piece of crisp skin and slivers of julienne spring onion. Then, he carefully folds the pancake into little envelopes of duck skin goodness. Every bite of these wonderful rolls is the symphony of flavor and textures: the soft of the pancake versus the crunch of skin, the sweetness of the hoisin cutting the rich, gamey flavor of the duck and the spring onion's peppery, astringent notes balances it all. The skinless duck is whisked away in preparation for the second and third way. The duck returns to table for our second way, a Spicy Deep-Fried Duck. This way is perfectly fried sans any oily feel on the lips and tongue. Crisp on the outside and tender on the inside, each piece of duck is lightly glazed with a hot spicy sauce that makes the mouth water and the brow sweat. One bite and you still want more. Lastly, our third way arrives, Minced Duck cupped in Lettuce Leaves. Reserved duck meat is stir-fried and plated on young, iceberg lettuce leaves. Topped with a tangy plum sauce, the finely diced duck is complemented by the fresh crunch of lettuce cups. A satisfying ending to an outstanding meal.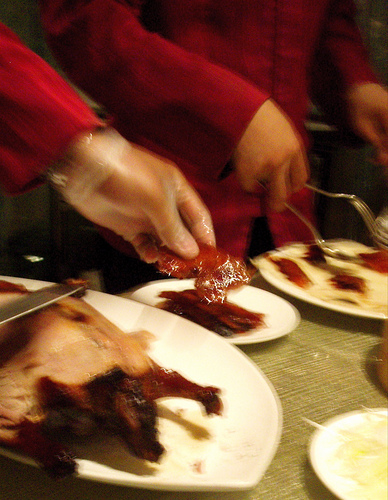 Slicing it up: Peking Duck, 1st Way
Peking duck. A centuries-old dish that never seems gets old. I wonder what excuse I'll use next…
Shang Palace

2nd Level

Makati Shangri-La Hotel

Ayala Avenue at Makati Avenue

Makati City 1200

Philippines

For Reservations: (02) 840 0884

LABELS: Peking Duck, Shang Palace, Table Conversation