By franco on 7 August, 2008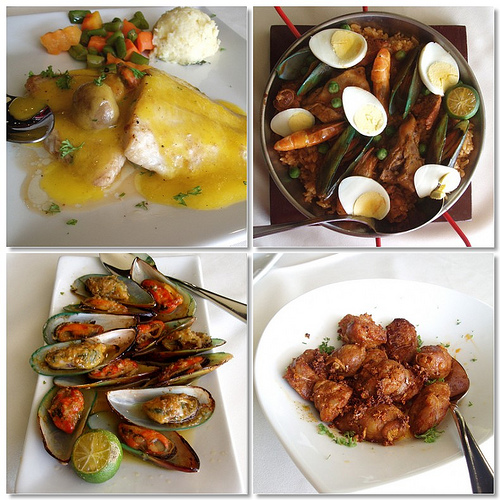 top left, clockwise

Sole Richelieu, Paella Espanola,

Chorizo de Bilbao, Baked Mussels
They say that every meal is a journey.
Sadly, all this "journeying" can sometimes become tiresome.
I enjoy exploring what the culinary world has to offer. I love the adventure. But even the most intrepid of foodies has to stop, take stock and revisit the food that made them fall in love with all things gastronomic.
In my case, it all started with the Sunday family dinner. It was during these dinners that I discover my inner foodie. Be it a home-cooked meal or a dinner out at a restaurant, these meals in the company of my family were my unheralded initiation into the much broader world of food.
In my younger years, the restaurant of choice was a place called Minggoy's. It was in this humble Spanish restaurant (along with some helpful guidelines from my mother's kitchen) that my food education began. The food from Minggoy's would help set the standard at which all food would be compared and contrasted—food from the kitchen of Minggoy's then head chef, Amalia Jocson.
Fast forward a couple of decades. Chef Jocson has broken out and away. Not only does she manage a successful catering business but she is also the proud owner of two restaurants that bear her name, Amalia's.
The newer of the two Amalia's is nestled on the ground floor of a nondescript building along the Paseo de Magallanes strip. From this unassuming location, Chef Jocson reintroduces dishes that conjure childhood memories of joyful dinners past. I am elated by the idea of dining here.
Famished from a morning of yogic backbending, A. and I decide to keep to the traditional basics. We start our meal with two popular tapas. Covered in grated garlic, baked and spooned over with a butter-white wine sauce, this dish of Baked Mussels (P148) is simply delicious. The creamy, orange mussels is balanced by the sweet, pungent flavor of the baked garlic. Our mouths water as we suck down the flesh from their half-shell, savoring their subtle flavor and texture heightened by the salty, slightly acidic butter sauce.
The Chorizo de Bilbao (P185), a pork/beef sausage native to the Basque region of Spain, is sliced into half-inch segments, sautéed in olive oil and garlic and garnished finely chopped parsley. As the chorizo cooks, it renders out its reddish pimiento oils, coloring both the olive oil and finely-minced garlic and releasing a distinctive aroma of garlic, cumin and oregano. One bite and I guarantee you will be hooked.
The Minggoy's faithful will immediately recognize the Sole Richelieu (P255). This dish of grilled fillets of sole, garnished with mushrooms, shrimps and spinach and topped with generous serving of hollandaise sauce, is a carry-over from Chef Jocson's former kitchen. So unchanged is this dish that it almost seems retro. Check out the buttered beans and carrot segments or the ice cream scooper-shaped mashed potatoes. It's all very 80s. Technically speaking, the sole is perfect cooked: firm and yet very moist. However, the hollandaise is a disappointment. Hollandaise is all about the emulsification of butter, water and egg yolks. But for some reason, Amalia's sauce lacks the creamy consistency of a properly emulsified hollandaise. Instead, we were faced with an almost gelatinous glaze of butter.
The star of any meal at Amalia's is always the paella. Of the four varieties available, we order the most popular (according to our server), the Paella Espanola (P235 for one). Cooked and served in small, shallow paellera, this paella is topped cuts of chicken, slices of chorizo and eggs, mussels and shrimps in their shells, peas and red pimientos. This paella is a delicious meal unto itself. But as any paella veteran will tell you, the most prized part of a paella is not on the top but at the bottom. In fact, the crispy, toasted rice at the bottom of the paellera called tutong is a much sought-after delicacy and a serious bone of contention between A. and me.
Amalia's is not the most creative or the most innovative of restaurants. But, sometimes, it is not about that. Chef Jocson has created a space where diners can come, relax and sit down to a deliciously satisfying meal. It is true. You can never come home. But an occasional visit is always good for the stomach and the soul.
Amalia's
Ground Floor
Maga Center
Paseo de Magallanes
Makati City
Telephone: (02) 852 1381
7 A. Aguirre Avenue
BF Homes, Paranaque City
Metro Manila
Telephone: (02) 850 3123
LABELS: Amalia's, Franco, Manila, Restaurants