By Mariko on 31 August, 2008
If you plan to eat at
Amalia's,
make sure it's during regular mealtimes, and not between 2:00 pm and 6:00 pm…unless you're prepared to sweet talk your way in for a bit of paella.
B and I decided to have a late lunch, because getting up early isn't exactly on our list of priorities on Sundays. Sunday, I believe, is made for napping, vegging in front of the TV, and eating out…all done
after
12:00 noon. So it was a bit of a letdown when, after traveling all the way from QC, we found a "Closed" sign hanging on the glass door. One group was at the tail-end of their meal, and as they exited, I popped my head through the door and asked one waitress, "
Pwede?
" This despite the sign posted on the door, proclaiming their operating hours. She looked back at the counter where some of her co-workers were. "
Nanggaling pa kasi kaming QC eh…
" I said. Hey, it was worth a shot. She and the others finally agreed, and I quickly got the rest of me through the door before they changed their minds. B followed, and we settled into a booth lined with pretty cream-colored damask, and with a mosaic pendant lamp hanging overhead.
No visit to a Spanish resto is complete without an order of paella, and since Franco beat me to the Paella Espanola, I got the
Paella Marinara (P235 for one, P440 for three).
If the name doesn't help, this paella is loaded with seafood: fish fillets, mussels, shrimp, and some eggs, green peas, and red pimientos for good measure.
Paella is paella. Maybe I'm just unfortunate, but I don't think I've ever really tried paella that stands out in my memory. Which is not to say that Amalia's version isn't good–just not memorable. I did love the crispy portion though, and B mocked me when I scooped it onto my plate and cried "Tutooong!"
We also ordered the Lengua con Setas (P275).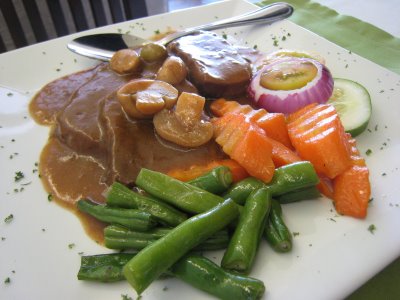 Lengua is a lot like balut–you have no problems eating it until you realize what it is. I read about two people having a conversation about their weird food preferences where one person admitted that she liked ox tongue. The other replied, "Eyew! I don't want to taste anything that tastes me back!"
I had this in my head as I sliced my lengua, trying to quell the image of dancing taste buds. I really do like the taste of lengua, but sometimes the texture is just too much like…tongue! Almost jelly-like. Not a pleasant texture for someone with a hyperactive imagination.
But the Amalia's version, simmered in red wine and brown sauce, and served with button mushrooms and an olive (or two) was actually kind of…beefy. I nearly forgot that I was essentially French-ing a cow, as my brother would say. "It's the way lengua should be," said B in between bites. I just don't know if it was him or the ox talking…
I had a pleasant meal, and I couldn't complain about the food. And I am really thankful to the staff for letting us dine there during what was supposed to be their afternoon break. Would I go back? Probably. Just not any time soon–there are other restaurants to try.
(P.S. If anyone could point me towards paella that could make me forget my name, I'd really appreciate it!)
Amalia's
Ground Floor
Maga Center
Paseo de Magallanes
Makati City
Telephone: (02) 852 1381
7 A. Aguirre Avenue
BF Homes, Paranaque City
Metro Manila
Telephone: (02) 850 3123
LABELS: Amalia's, Manila, Mariko, Restaurants