By franco on 13 July, 2008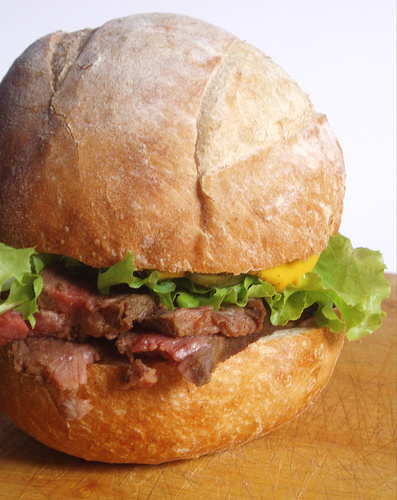 I love steak night at home.
What I love even more is the morning after. Or more precisely, I love making steak sandwiches from the leftovers from the night before. Last night, I was experimenting with a new Korean steak marinade. It was delicious. But surprisingly, we had leftovers…
Ok, I'll come clean. Don't tell A but I always buy a bit more beef than we need, ensuring a sufficient serving of leftover steak for my favorite sandwich.
Post Steak Dinner Sandwich
Adapted from Jamie Oliver's Jamie's Dinners

4 crusty buns
300 gram rib-eye steak, finely sliced
80 grams mixed greens and arugula, trimmed and cleaned
1 large gherkin, thinly sliced
Strong English mustard
Salt and pepper
Butter

Slice the crusty buns in half. Toast to golden brown and spread a few pats of butter on each side.

Layer several slices of cold leftover steak over one side. Place a handful of lettuce over the beef and top that with slices of sweet-and-sour gherkins.

On the other side, generously slather the English mustard. Liberally add sea salt and black pepper.

Assemble the sandwich and serve with chips and whole gherkins on the side.

Serves 4
The simplest dishes are more often the most delightful. This sandwich is no exception. I suggest using the strongest mustard you can find. As Mr. Oliver says, if you aren't tearing up while eating this sarnie (love Brit slang), you didn't put enough mustard.
Enjoy.
LABELS: Post-Steak Dinner Sandwich, Table Recipes