By franco on 2 July, 2008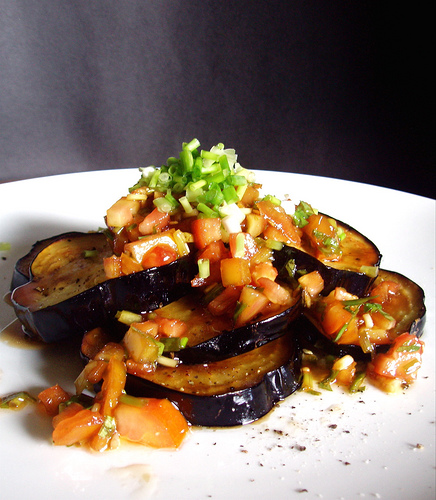 Because of my other
interest
, I've been thinking about (take a breath) going vegetarian.
No more beef. No more pork. No more fish. Simply put, if it has (or once had) a face, I don't eat it…Maybe, I should consider my options.
There are many benefits to being vegetarian. Consider this.
Besides these very reasonable arguments, I would like to submit this dish for consideration. It is a perfect example of why abstaining from all meats may not be completely out of the question. From the kitchen of my current Chinese food goddess Kylie Kwong, this dish of deep-fried aubergine topped with an Asian-inspired tomato salsa is nothing short of a profound discovery. I've prepared this particular item several times for different sets of guests. The comment is always the same: simply delicious.
Given that this recipe was adapted from a Chinese cookbook, the addition of olive oil struck me as odd at first. But as Ms. Kwong implies in her book, since the olive oil works well with these ingredients (that are also common to Mediterranean cooking), why shouldn't it be there when it clearly enhances the flavor of the dish?

Deep-Fried Eggplant with Tomato Dressing
Adapted from Simple Chinese Cooking by Kylie Kwong
2 medium sized eggplants
1 tablespoon sea salt
vegetable oil for deep-frying
2 tablespoons finely sliced spring onions
pinch of Sichuan pepper and salt

For the Tomato Dressing:


3 small tomatoes, diced
1 tablespoon fish sauce
1/4 cup extra virgin olive oil
1/4 cup finely sliced spring onions
1/4 cup finely chopped coriander leaves
2 tablespoons red cane vinegar
1 tablespoon white sugar
1 tablespoon soy sauce
1 tablespoon lemon juice

Cut the eggplants in 3/4 inch round slices. Place the rounds on a tray and sprinkle each side with salt. Leave to stand for 45 minutes. Later, pat dry with a paper towel.*

While waiting for the eggplant, prepare the tomato dressing by simply mixing together all the ingredients in a bowl. Set aside.

Heat the vegetable oil in a wok and fry the eggplant rounds in batches. Cook until lightly browned and tender. Remove from the oil and drain on paper towels.

Arrange the fried eggplant rounds on a serving platter. Spoon the tomato dressing on top of the rounds and garnish the dish with the sliced spring onions and sprinkling of Sichuan pepper and sea salt.

*This step helps remove the bitter aftertaste of the eggplants.

Serves 6

Franco's Note: This dish tastes just as good as at room temperature. The fried eggplant slices and the tomato dressing can be prepared an hour in advance. Just keep them separate until you are ready to plate the dish for serving.

The lush acidity of the tomato dressing cuts through and clarifies the luxurious texture and flavor of the eggplant. The dish is light. Yet it is full of contrasting flavors that work together, creating a surprisingly satisfying dish.
After savoring every morsel, I'm thinking that going vegetarian isn't such a terrible idea. Now, as I sit, biting into my quarter pounder hamburger slathered in a wasabi mayo, I take a moment. I decide to give myself more time. Must never be too hasty considering important life decisions.
I take another bite…
LABELS: Deep-Fried Eggplant with Tomato Dressing, Table Recipes