By Mariko on 7 July, 2008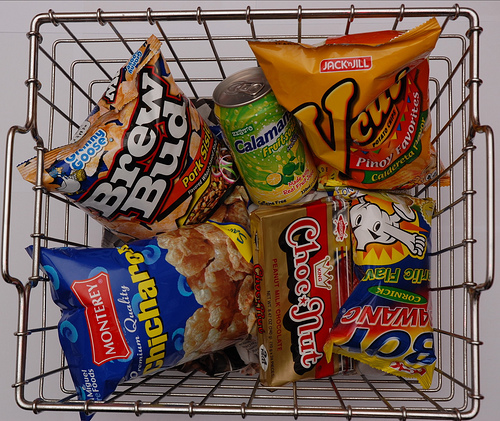 A Serious Case of the Munchies: Snacks, Pinoy Style
Nope, that is not my shopping basket on an ordinary day. (If my friends tell you otherwise, don't believe them. I'd throw in some yogurt for a healthy kick. Ha!) This was, in fact, my little assignment: Eat bags and bags of some of the uniquely Pinoy snacks found in the neighborhood supermarket.
See my notes below. If only school assignments had been this fun. Now excuse me while I convulse from the sheer amount of sodium I've ingested…

Boy Bawang (Garlic Flavor)
I am in awe of Boy Bawang because it took a generic snack item that has been around for ages, gave it a brand, and turned it into a household name. (See also, Gardenia Bread.) Boy Bawang is close to becoming the cornick equivalent of Colgate, Frigidaire, and Xerox. I often hear people say, "Uy, Boy Bawang!" but I hardly encounter such excitement over unnamed cornicks in a plain plastic bag.
What I love about Boy Bawang is that it stays true to its name–you get an incredible garlick-y kick with every nutty handful. Forget wooden stakes and holy water–when it comes to vampire repellents, Boy Bawang is the ish, yo. (See also, First Date Food to Avoid.)
Granny Goose Brew Bud (Pork Sisig)
The most hilarious thing about this snack: The bag proudly proclaims that it is a "flavored wheat-based snack." I see it's trying to appeal to the more health-conscious snackers out there, because much like Seiko Films, if it's wheat, then it must be good!
I half-expected to see dried sisig bits as I opened the bag, and was slightly disappointed to find something kropek-like. The flavor? There's a porky taste, for sure, but whether it's anything like sisig is debatable. I say nope. Still, it's flavorful enough to tame an attack of the munchies.
V-Cut (Caldereta Flavor)
V-Cut is perhaps my all-time favorite Pinoy junk food of choice. I love that it is just bursting with sodium, with a delightful spicy kick towards the end of each bite. Plus, it's ribbed for your pleasure! The better to scoop those heavy sour cream and onion dips with. Mmmm dip…
Focus, Mariko, focus.
So anyway, V-Cut now has a line called Pinoy Favorites, and I had me the caldereta-flavored one. With each bite, you initially do get a taste of caldereta, then that trademark spiciness sets in. I am not big on the caldereta but I can recognize that dem chips truly capture the flavor. I think these would be awesome crushed and scattered over some real caldereta–the crunchiness would make the classic dish a tad more interesting, don't you think?
Monterey Chicharon
I'm convinced that everyone hits a certain age when he or she would prefer chicharon with laman.
When I was younger, I couldn't understand how my parents could feast on Lapid's chicharon with laman. Each fatty, oil-infused bit just screamed, "Clogged arteries!" But about two years ago, I started preferring these babies over plain old, cholesterol-lightweight, balat chicharon. Maybe this is why I didn't totally enjoy the Monterey version. I mean, I really liked that it was super salty, plus it could stand on its own without vinegar. (I still had it with some of that wonderful orange-colored vinegar from Lapid's though.) But it was a little flakier and airier than I would have wanted. My mom's verdict: "It doesn't taste…fresh." To which I replied, "Fresh? Fresh chicharon?" Go figure.
For any inuman, though, this would make terrific pulutan. Especially since you could buy it at nearby supermarkets.
P.S. I am obviously a Lapid's fan. But that didn't stop me from finishing the whole Monterey bag. Man, this job's tough.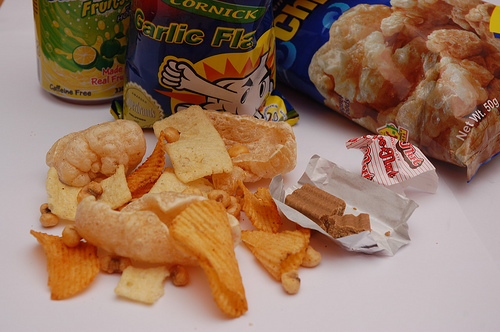 Pinoy Snacks: Out of the Bag

Choc-Nut
Over the years, I have experienced Choc-Nut in its various incarnations: as an ice cream flavor, cake topper, smoothie, and–most recently–body scrub! And then there is Choc-Nut in its purest form, a sweet treat that B's typically male taste buds (read: not heavily into sugar) really enjoy.
Hardcore chocolate connoisseurs would probably wrinkle their nose at this confection–how dare this lowly, chalky, crumbly little bar proclaim that it is chocolate? But with just one bite, anyone would elevate this humble Pinoy favorite alongside the finest that Belgium has to offer. With Choc-Nut, you can't tell where the chocolate ends and the peanut begins; it's just a seamless blend of flavors. And it's not about the quality of the ingredients or the amount of time spent preparing it–indeed, it's incredibly cheap and unapologetically mass-produced. What makes it so special is that it's so distinctly Pinoy, a product we could proudly share with the rest of the world, a little something that gives us a taste of home.
This "taste" could be had in a myriad of ways though–there are as many methods of eating Choc-Nut as there are Choc-Nut-based creations. Some prefer to pop a whole piece into their mouths, to keep it from crumbling in its foil wrapper. Others bite into it then allow it to melt on their tongues–letting the dry, polvoron-like Filipino bon-bon take on a thick, smooth, peanut-butter-like consistency. And then there are the crumbs: You could use your finger to gather up those precious bits, or tilt your head back and slide the remaining morsels from foil to mouth.
The best thing about Choc-Nut? It's enjoyed by everybody–the young, the old, the haves, and the have-nots. It's the great equalizer–appreciated at both ends of the spectrum. Kinda like the choco version of Manny Pacquiao. Manny! Manny! Manny! Er, Choc-Nut! Choc-Nut! Choc-Nut!
Zesto Calamansi Fruitsoda
I generally steer clear of carbonated drinks, not for health reasons (duh, I'm the girl who polished off a bag of Monterey Chicharon in five minutes), but merely because I don't like them. I don't know if there is some sort of aberration in my palate, but that's just the way it is. I've had to politely down glasses of soda at parties and at friends' houses (I know they mean well, so I drink up), and endure weird looks from waiters in Geneva when I would ask for water "sans gas." So you could imagine that this Fruitsoda bit wasn't high up on my list of Pinoy Supermarket Finds to Try. But try it I must.
Once the bubbles have died down and the fizz has made its way (painfully) down my throat, I do note that it really does taste like calamansi juice: It's not like those overly sweet concentrates, or a poseur drink that doesn't even taste remotely like what it's supposed to taste like (hello, grape-flavored anything). It would've been enjoyable, had it not been for that aforementioned pesky aversion to All Things Carbonated.
Rarin' to try it? Make sure you have it on the rocks. Then raise your glass, and toast to all these sometimes weird, often wonderful, uniquely Pinoy flavors–and to Pinoy pride!
Thanks to Erik Lacson for the photos!
LABELS: Mariko, Pinoy Style, Snack Attack, Table Conversation