By Mariko on 31 July, 2008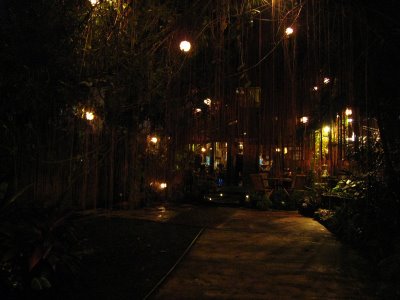 Franco's Note: For this month we've decided to take a little food trip in and around the Katipunan Area. Visiting places you may have or have not heard of. Enjoy.
I first visited Inyo nearly two years ago. At that time, they had pretty much just opened, and while service still wasn't impeccable, I vowed to go back. It had so much potential, plus I thought it epitomized the whole value-for-money deal. I loved that there were vines dripping from the trees at the entrance–this added to its charm. I loved that it was in a converted old house–this added to its character. I loved that it served well-prepared dishes without being all pretentious–this just made it my kind of date place!
Two years later, I finally made good on my promise. I was pleased to find that it had only gotten better with time: The service staff was very attentive and friendly, the interiors were well-kept (a tropical moderne bathroom!), and the food–Inyo has gotten to this level that they just seem so very comfortable with what they're doing. The French-Japanese fusion just totally works, and the plating has gotten more whimsical and fun. I was tempted to order what another table was having based solely on the presentation of the food (my non-contact-lensed eyes spied something similar to tempura served in paper cones resting in large martini glasses).
I ended up ordering one of their specials: Fruit Wood Grilled Cream Dory Fillet (P480).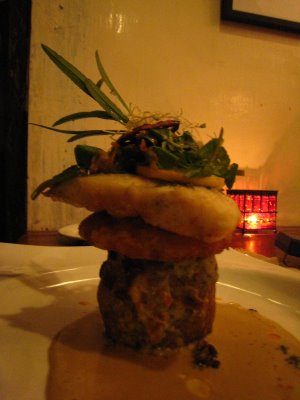 I don't even know where to begin describing this dish. There were just so many textures (the slight crispiness of the potato skin, the tenderness of the fish, the creaminess of the sauce) and flavors (dory, uni, potato…there was even a hint of oyster in there somewhere). And just look at how it was artfully stacked! It was almost too pretty to eat. (But hunger won out. It always does.) A conversation between bites:
B: It's like…there's a party in my mouth!
Me: And everyone's invited!
B, meat-lovin' alpha male that he is, wanted to order meat and decided on the US Hanging Tender Steak (P475). I had my eye on this dish because it came with mushroom risotto, and was really glad that he chose this. Sesame Street was right–sharing is good.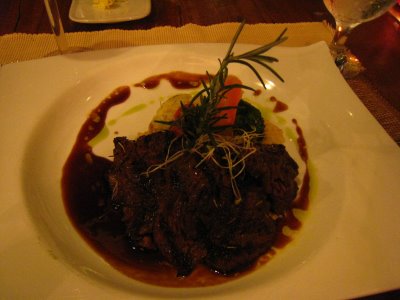 The steak, surrounded by red wine sauce, was delicious enough on its own; so was the risotto. But together, they made a great example of something being more than the sum of its parts! I was surprised that B, who normally wolfs down whatever is in front of him, actually took his time with this dish, savoring every bite. "I could eat this every day!" he declared. (That conjured visions of me slaving away daily as I tried to make risotto. I hope he won't mind good ol' fashioned Spam on some days.)
To cap our incredibly satisfying meal, we (er, more accurately, I) ordered one of Inyo's bestselling desserts. Called What a Dessert! (P200), it was a "sinful tart of peanut butter and cream cheese mousse with dark chocolate chips and vanilla ice cream, served with a sabayon of fruits."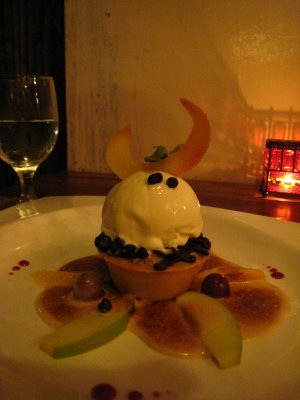 It is essentially a peanut butter cheesecake a la mode. Those little horns signal just how rich and evil it is!
All in all, this was one of our most satisfying dining experiences. The restaurant was just so laid-back and welcoming, the food thoughtfully prepared, the prices just right for the kind of food we got (they even threw in a free appetizer: wasabi oyster tempura!). Inyo is the kind of restaurant I dream of owning, mostly so I could hang out there as long and as often as I want. But since owning a resto isn't in the cards just yet, I'll just have to content myself with going back again and again.
Inyo Fusion Cuisine
66 Esteban Abada St.,
Quezon City
(Parallel to Katipunan, near Ateneo)
Tel. (02) 928-6459
http://inyo.ph
Open Tuesday to Sunday
11:00 am to 2:00 pm, 6:00 pm to 10:00 pm

LABELS: Inyo, Katips Kuisine, Manila, Mariko, Restaurants