By franco on 26 July, 2008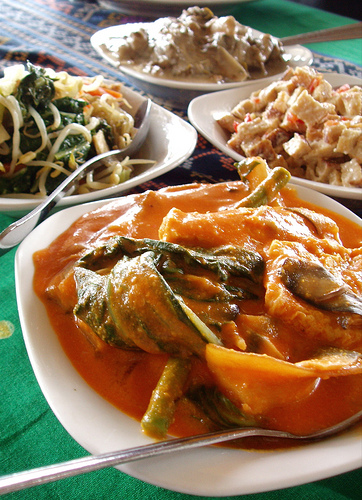 Vegan eating from Blissful Belly

Franco's Note: For this month we've decided to take a little food trip in and around the Katipunan Area. Visiting places you may have or have not heard of. Enjoy.
I have eaten some really strange things in my life.
From coagulated pig's blood on a stick to deep fried scorpions on sticky buns, name it and I've probably eaten it (or at least, would strongly consider eating it). But for some reason nothing fills me with a fearful giddiness more than vegetarian food.
I can't explain why but my stomach is in knots at the mention of a meatless meal. Call it carnivore's guilt or a meatless phobia. Whatever you want to call it, the idea of vegetarian food scares me. So when my friend, Stich invited me to try a restaurant he dines at called Blissful Belly, I had to pause. Not that I question Stich's taste, but why of all place, did he have to invite me to a vegan restaurant?
In the spirit of gastronomic adventure, I decide to take the leap. Beside there's a Persian Kebab place across the street if things get too green for my liking.
I have eaten in other vegetarian restaurants before. But the experience has always left me wanting more. More precisely, more meat. So as I drive toward Blissful Belly, I struggle to manage my own expectations, reminding myself to respect and understand other peoples' food choices and memorize the location of the nearest Brother's Burger.
Blissful Belly is a little restaurant, tucked away on the second floor of a nondescript building just off Katipunan Avenue. This diminutive 15-seater is decorated with bleach blond wooden shelves, chairs and tables, covered in weaves with native mountain province designs. Small and unpretentious, this eatery has exudes a warm, uncomplicated, almost homey atmosphere.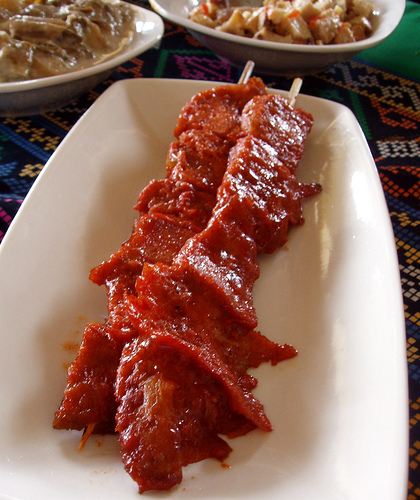 Vegetarian Barbecue from Blissful Belly
Unlike other restaurants, Blissful Belly has a clear and singular mission "to prove that going meatless need not be a boring eating adventure."
Food is served 'turo-turo' or buffet style. Guests are requested come up to a counter topped with chafing dishes and chose the dishes they wish to have. Later, the waiting staff come around to each table and serve each dish in a simple, family-style fashion. With a plate of Steamed Brown Rice (P25), a meal is good to go. Time to tuck in.
At the Blissful Belly, there is no set menu. The best produce their organic suppliers can provide determines their bill of fare. The day of our visit, our lunch menu is decidedly Pinoy.
No surprise, the traditionally vegetable-based dishes are done well. A vegetable dish of lightly Sautéed Togue flavored with Crushed Garlic (P55) and another of Kangkong mixed in with Tofu Skins (P55) are both a delight to munch on. Crunchy in texture, delicately seasoned and full of veggie flavor, the dishes are what you would expect from a restaurant that labels itself vegetarian. A notable dish is the Laing (P55). Blissful Belly's version of this stew of taro leaves and coconut milk doesn't stand out because is exceptionally delicious but because it is appetizing enough to make me almost forget about the missing pork belly.
The beer garden favorite of pig ears, cheek and other unmentionable pig parts served on a sizzling hot, cast iron plate, Sisig (P65) is taken for a delightful spin at Blissful Belly. Gone are the diced pork parts. In their place, small cubes of lightly fried tofu marinated in vinegar and soy sauce are substituted. Although this dish may never mimic the texture and taste of the real thing, it still something worth savoring.
The dish that took me completely by surprise was Blissful Belly's Vegan Barbecue (P30). From the picture above, you can probably tell that the restaurant does an amazing facsimile of this street corner favorite. Made from slices of gluten, instead of chunks of pork, what these sticks of delight lack in texture and bite are made up by a surprising flavor—care of a spicy, sweet barbecue sauce.
I seriously doubt I'll be turning vegan anytime soon. But Blissful Belly has opened me to possibility that going meatless need not be a completely lackluster and tasteless experience. For me, a return visit is a very distinct possibility. But for now, I'm in need of a pork chop.
P.S. Try Blissful Belly's Juices, Iced Teas and Shakes. They're…interesting, to say the least.

Blissful Belly
Unit 215 Llanar Building
77 Xavierville Avenue
Loyola Heights, Quezon City
Telephone: (02) 920 3487
Cel Phone: (917) 898 5319
LABELS: Blissful Belly, Franco, Katips Kuisine, Manila, Restaurants