By franco on 22 July, 2008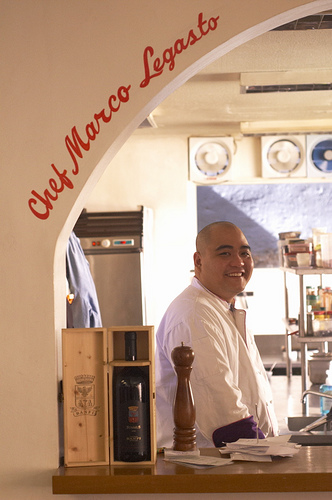 Chef Marco Legasto of Purple Feet
New Look. New Post.
It's been a while since my photographer/friend, Erik Lacson and I have collaborated on a photo essay. So when our schedules finally meshed and the right restaurant agreed to accommodate us, we jumped at the opportunity to work together once more.
The last time we photographed a restaurant, we focused on the day-to-day operations that most diners never get to see. One of the comments that struck me about that shoot was the fact that we didn't talk about the food. We are a food blog, after all. So, this time, we decided to address the issue.
Chef Marco Legasto and his team take on a unique challenge at their restaurant, Purple Feet. They call it Freestyle Cooking. Without the guidance of a set menu, they create dishes solely on the whims and wants of their demanding guests. A daunting task, to say the least.
For this photo essay, we asked Chef Marco to create three dishes that he loves serving to this clientele. He did not disappoint.
To have a look behind the Kitchen Doors of Purple Feet and at the flavorful food of Chef Marco, click here.
Franco's Note: Once viewing the slideshow, click on the pictures to read more information
Thank you to Erik Lacson for the lovely photos. Many thanks to Chef Marco Legasto and the staff of Purple Feet. And lastly, to Abi, Liza and Jesse of Studio Dialogo, thank you for your creativity and patience.

LABELS: Behind the Kitchen Doors, Chef Marco Legasto, Kitchen Doors, Purple Feet