By franco on 11 June, 2008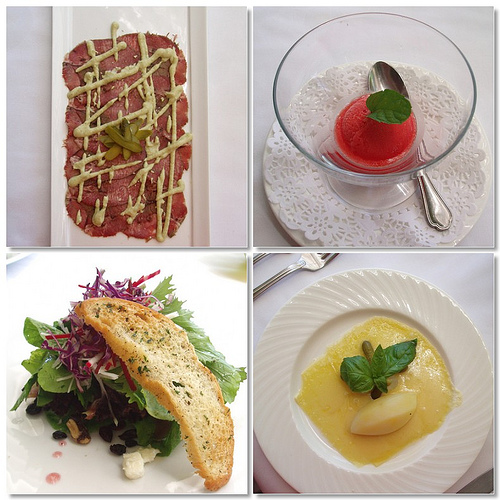 from top left, clockwise

Cured Ox Tongue Carpaccio, Watermelon Calamansi Sorbet,

Raclette with Pickled Vegetables and Fresh Mesclun Salad with Raspberry Vinaigrette
How many ways can you say delicious?
Flavorful. Tasty. Appetizing, Yummy. Luscious. Delectable. Mouth-watering. Scrumptious. Delightful. Lovely. Wonderful. Savory. Pleasant. Enjoyable. Appealing. Enchanting. Charming. First Class. First Rate. Superior. Excellent. Fabulous. Orgasmic. Good. Great.
I say Antonio's.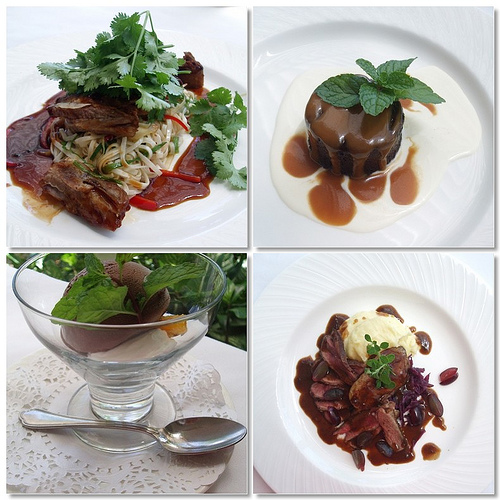 from top left, clockwise

Crispy Deboned Lamb Ribs with Garlic Egg Noodle, Flourless Chocolate Cake

Roasted Duck Breast with Braised Red Cabbage, Spicy Felchlin Chocolate Ice Cream with Fresh Marshmallow
I'll get out of the way and let the pictures speak for themselves. And to answer your question– yes, it is as good as it looks. Delicious, in fact.
I shall stop now before I hurt myself.
Antonio's
Barangay Neogan
Tagaytay City, Cavite
Telephone: (046) 413 0975 or (046) 413 1054
Celphone: (0917) 899 2866
Email: antoniosfarm@yahoo.com