By franco on 9 June, 2008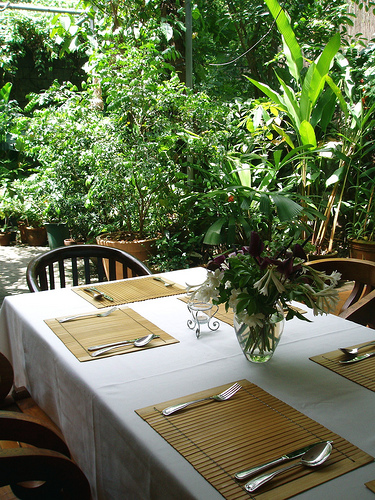 The power of word of mouth.
I had first heard of Green Daisy in, of all places, Ilocos. During one of our many late-night, post-dinner conversations with our Sitio Remedios hosts, Dr. Joven Cuanang and Rene Guatlao, our discussion once again turned to food, more specifically, restaurants we love. Dr. Joven and Rene were all raves about a woman who not only farms her own organic produce but also manages a small restaurant and does most of the cooking as well. I was intrigued. A couple of weeks pass. Back in Manila, I pick up an issue of Yummy magazine. Lo and behold, there's a small feature about Green Daisy. I take it as a sign. With a whetted appetite, I add this restuarant to my (ever-growing) list of places to try. Months later, I'm finally here.
"The preparation of our food begins in the farm, in managing and sowing the soil, employing only organic and sustainable methods and continues through careful preparation in the kitchen with love."

– Daisy Langeneggar, Yummy magazine, March 2008

In a nutshell, this is what Green Daisy and, its driving force, Daisy Langenegger are all about. A champion of sustainable organic farming, Daisy opened the doors of Green Daisy to provide a venue where organic farmers and the consuming public can interact. As Daisy's guests, we are able to savor the flavors and nutritional benefits that this system of cultivation provides.
Green Daisy is located in Quezon City, on the outskirts of the UP Diliman campus. Don't let the unassuming facade fool you. Surrounded by light and bathed in greenery, eating at Green Daisy is more like dining in friend's home instead of restaurant. In fact, it is Daisy's home. Daisy has not only created a comforting, green oasis for her dining guests but she has also made a small retail space selling produce and products for patrons who want to take home a memory of their organic experience.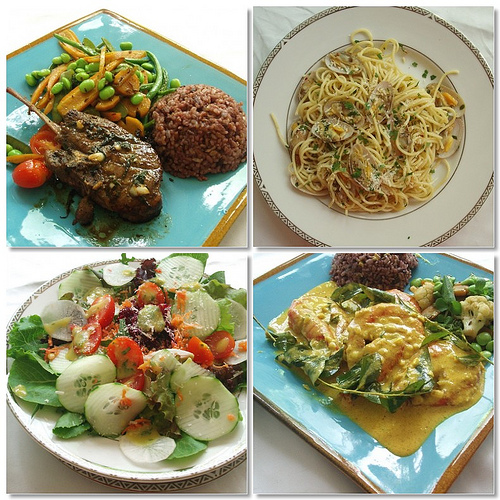 from top left, clockwise

Grilled Lamb Chop with Organic Vegetables and Wild Rice, Pasta with Clams and Herbs,

Shrimp Curry with Organic Vegetables and Wild Rice, Organic Mixed Salad
Most dishes in restaurants come with the proverbial sides. Grains, leaf or root vegetables and even fruits are almost expected to accompany every plate. Unless it's a soup, salad or vegetarian meal, the diner's focus is always the protein. Some of us ignore these side garnishes. Others consume them without much thought or consideration of their flavor or texture. But at Green Daisy, vegetables, grains and fruits are given equal or even top billing on the plate.
For the record, our dishes of organically raised, Grilled Lamb (P450) and a spicy Shrimp Curry (P390) were well-seasoned and flavorful. But what was truly an eye-opening experience was tasting vegetables dishes like the Green Squash Soup with Cilantro (P180) or the Mixed Organic Salad with and Herbed Aioli Dressing (P180). Fresh from the farm, unspoiled by chemical fertilizers and pesticides and conscientiously prepared in a home-styled kitchen.
Our only issue with the food: Big eaters may perceive the servings as undersized given the prices asked.
Since the food here is not about mass production, guests do pay a premium. At Green Daisy, it's about a return to the basics of farming and the raising of livestock that not only improves the nutritional value but also heightens the natural flavor of their ingredients. It's about the quality of the food, not the quantity. It's about an experience of eating better, eating smarter.
That's an intangible you cannot put a price tag on.
Franco's Note: Call a day ahead. Dining is by reservation only and most dishes must be pre-ordered. It's a home kitchen and Daisy does most of the cooking herself.
Green Daisy
20 Maginhawa Street
UP Village, Quezon City
Metro Manila
Telephone: (02) 922 2409
Cel phone : (0917) 814 8262

LABELS: Green Daisy, Table Suggestions