By franco on 23 June, 2008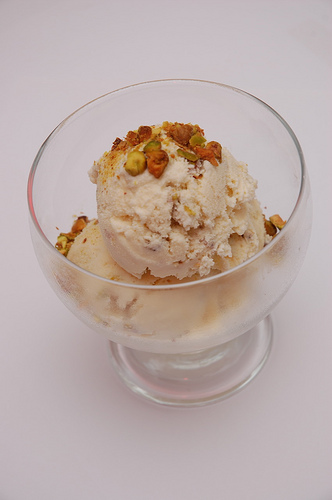 I love
Ilog Maria Honey.
Located in Silang, Cavite, Ilog Maria is owned and operated by Joel and Violaine Magsaysay. The honey they harvest and package onsite is a testament of their passion for creating the very best of this sweet, golden syrup. Since A. and I found ourselves in the area, we decide to pass by and pick up a 'few' bottles. With a shelf half-filled with honey, I figure it's time make an ice cream I've wanted to concoct for a while now.
This ice cream was inspired by a dessert I had at a Greek restaurant (whose name escapes me at the moment). It was in a short glass filled with a cool, Greek yogurt covered with a layer of sweet, citrus-flavored honey. The dessert was finished with roughly chopped pistachios sprinkled on top. So simple, yet so amazingly elegant. An unforgettable dessert.
I'm actually surprised I didn't make this ice cream sooner.
Honey Ice Cream with Salted Pistachios
Adapted from The Perfect Scoop by David Lebovitz

1/2 cup good-flavored honey
2 cups heavy cream
1 cup whole milk
1/4 cup sugar
1/2 salted pistachios, coarsely chopped
Pinch of salt

Pour 1 cup of the cream into a medium saucepan and add the sugar and salt. Add the honey into the pan and warm over medium heat until the sugar and honey are fully incorporated.

Remove from the heat and add the remaining 1 cup of cream and 1 cup of milk.

Chill the mixture thoroughly in the refrigerator. When ready to churn, freeze the mixture in your ice cream maker according to the manufacturer's instructions. During the last few minutes of churning, add the salted pistachios.

Makes 1 litre
Most cookbooks suggest freezing the churned ice cream for at least two hours. I usually like freezing mine overnight. I like make sure that everything properly sets. It's an excruciatingly long wait.
By the next morning, I'm up early. Time for an early morning taste test. I take my first spoonful. The velvety smooth cream gives way to the orange, citrus tones of the honey. It is sweet but not overtly so. The creaminess is broken up by the crunch of the mint green pistachios. The nuts are still salty but their savoriness only helps highlight the sweetness around them.
This frozen dessert is all about the honey. My wait for the right kind of honey was well worth the delayed gratification. To date, this is my favorite ice cream.
Franco's Note:

A reader asked me off-line why I always make my ice creams, Philadelphia-style a.k.a. without eggs. Answer: For whatever reason, the people I make ice cream for seem to like it better without the custard-like quality the eggs bring to the mix.
Thank you to Eric Lacson for the lovely photo.

Ilog Maria

Km. 47 Aguinaldo Highway

Silang, Cavite

Telephone:(046) 865 0018

Website: www.ilogmaria.com
LABELS: Honey Ice Cream with Salted Pistachios, Table Recipes