By franco on 2 June, 2008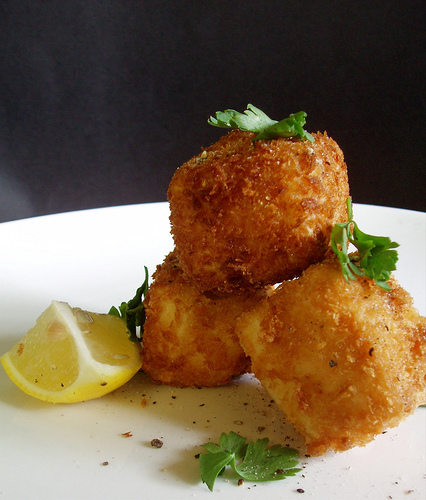 Among the many Chinese dishes I love, this would probably be the one I love the most.
Since I've been working on improving my Asian cooking techniques, I decided to start simple. Kylie Kwong has a way of making Chinese cuisine accessible to those of us learning unique ins and outs of this ancient culinary art. Personally, I couldn't ask for a better tutor to help me bring some Sichuan goodness into my kitchen. I did however add some panko breadcrumbs to the mix (the orginal recipe only called a light coating of flour). The reason? I simply enjoy the extra crunch.
This tofu dish is simplicity at its tastiest. With every bite, the crispy, golden brown exterior gives way to the soft silkiness of the tofu within. With a sprinkle of salt and pepper, a squeeze of lemon and dip in some black vinegar, my taste buds are good-to-go.

Deep-Fried Tofu with Sichuan Pepper and Salt

Adapted from Simple Chinese Cooking by Kylie Kwong


1 x 300 gram pack silken tofu
vegetable oil for frying
1/3 cup all-purpose flour
1/3 cup Panko breadcrumbs
1 egg, scrambled for egg wash
Handful of coriander leaves
1 teaspoon Sichuan pepper
1 teaspoon sea salt
1 lemon in quarters

Remove the silken tofu the container. Slices the tofu into six 1-inch cubes. Drain off excess moisture.

Heat oil in a hot wok until surface seems to shimmer. Lightly coat the tofu in flour. Then cover the tofu in egg wash. And lastly, coat with panko breadcrumbs. Using a spatula, slow lower each piece into the hot oil.*

Deep fry tofu until light golden brown and crispy. Gently remove with a slotted spoon and drain away access oil.

Arrange the fried tofu on a serving platter. Sprinkle with ground Sichuan pepper and sea salt. Garnish with coriander leaves and serve with lemon quarters.



* Begin coating tofu when the vegetable oil is at proper frying temperature. The breadcrumb coat tends to get soggy if left standing.



serves 2-3


My personal choice for an accompanying sauce would be some Chinese black vinegar. But A. enjoys this dish with a sweeter Japanese Tonkatsu sauce. Enjoy.

LABELS: Deep-Fried Tofu with Sichuan Pepper and Salt, Table Recipes