By Stitch on 18 June, 2008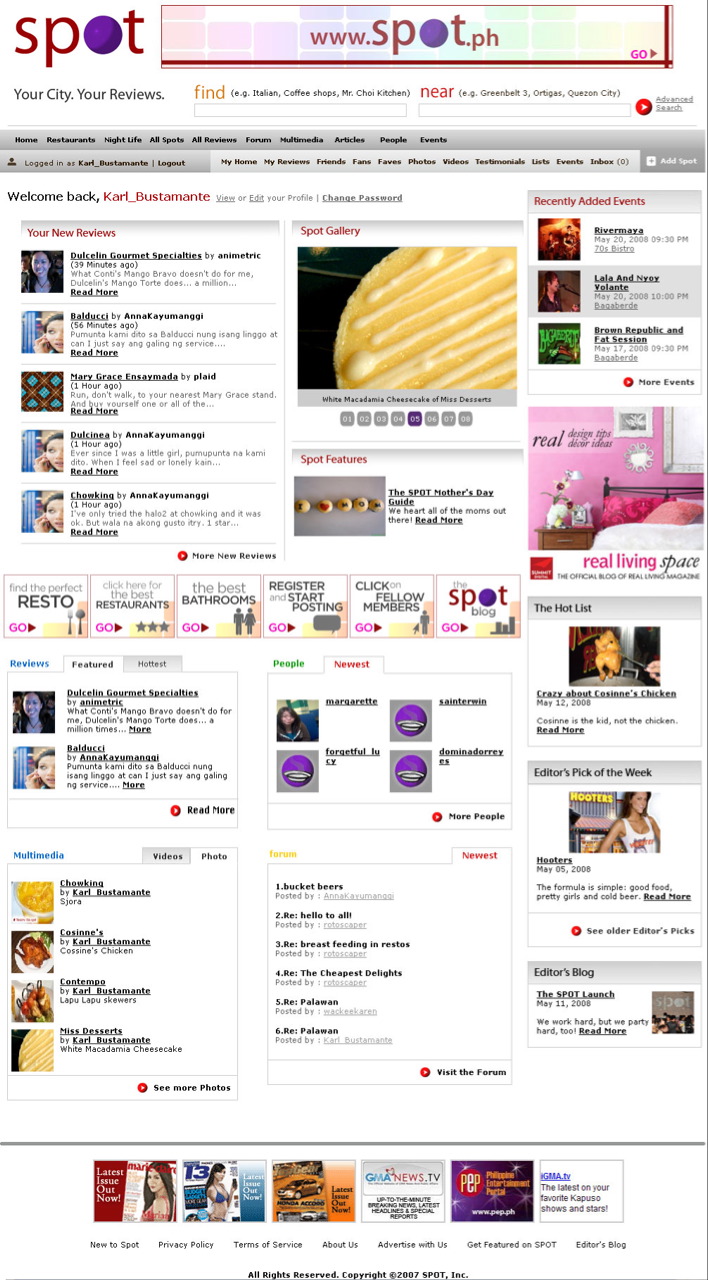 It was inevitable that someone would name a food site after a dog. After all, how many poodles have been named after food? (Here Pickles, or Cookie…) That said, however, it is not surprising that more dining/drinking/just going out sites would come up, given how rabidly we Filipinos are at going out and having fun. SPOT.ph isn't a new idea, though. There have been others (clickthecity.com comes to mind). So, is this new puppy just another mutt? We decided to check it out for ourselves. And I promise to keep the dog puns to myself.
The press release of SPOT.ph describes the site this way:

SPOT.ph sees the millions of men and women who live and work in Manila as the ultimate source of information on the city, and is a venue where locals rant and rave about everything from five star hotel restaurants to fast food joints to carinderias.
Hmm. Ok.
The site is true to itself in that regard. Open it and the first thing one sees are the reviews from the people, whether its a particular branch of North Park or some new place. Of course, this also means a ton of reviews to sort through, if one was deciding on where to go. It looks hip, with some decor going on in their headline icon a'la Google. And the food pictures looked good.
It seems a little cluttered, though. It's not the amount of information being presented on each page, but how its being done. A quick side-by-side comparison with with clickthecity shows a similar amount of info, but the organization and layout of clickthecity makes it less of an effort to get to anything.
There are also issues with the database. I looked for an Italian restaurant in Navotas and ended up being showed the way to Cantinetta in Rockwell, where the profile said the restaurant had no parking. Eh? Some work on the resto entries and navigation is in order, I think.
Also, while I applaud the populist approach, would there be a way of actually filtering these myriad opinions into usable information for diners? The point of the site is to help people find spots to go to, right? Personally, I don't relish having to slog through dozens of reviews before I am able to form an informed opinion. Shortcuts? The star system is of course one of the simplest options out there, but that's done by other sites too. And I honestly don't get anything out of it. Five stars means it's good? In what way? Taste? Value? Ambiance? I know that if I read the reviews, I'll get to the details of those star ratings, but what if I did not have the time?
Do the comments of the members actually become useful to casual diners and browsers? I would think that the populist convention being used by SPOT would be great for establishing and fostering a community, but would it then leave casual browsers out in the cold? It may be too early to tell, since they've just passed the 1000 review mark (congrats, by the way), but these are possible foibles to their particular approach.
I find myself asking if I really need SPOT in my life. Is it another ipod in the sense that, now that I have one, I cannot live without it? Sadly, my answer is no.
SPOT's a cute, lively, yappy puppy. Too bad I'm into big dogs.
LABELS: Spot.ph, Table Conversation