By franco on 14 June, 2008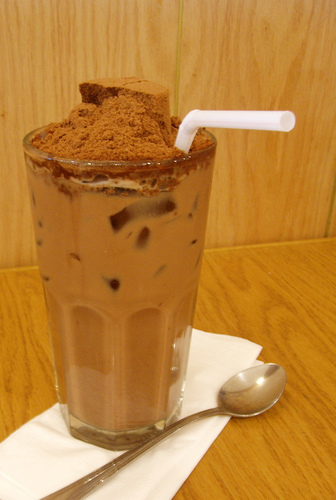 The Milo Dinosaur from Toast Box
I rarely take food recommendations from a five-year-old.
But today, I'm making an exception. Meet the Milo Dinosaur. A product of Malaysian coffee shops and hawker stands, this monster of chocolate goodness packs a wallop of flavor and in my case, a busload of childhood memories. It's a simple drink. In a tall glass, mix yourself a regular Milo drink and put it on lots of ice. Here is what makes it a dinosaur. For the final touch, top it off with a small mountain of powdered Milo. Lovely.
There are two ways to tuck into this chocolate delight. For those of you who crave immediate gratification or just love your Milo dry, dig in immediately. Start spooning the mound of Milo in your mouth. Let the powdered chocolate melt into streams of sweetness and follow that up with a liquid Milo chaser. For others who can wait a little longer, let the dinosaur sit a while on the table. As you take sips of the Milo drink, the chocolate hump begins to absorb the liquid forming a dark, yummy sludge. Once the Milo drink is all gone, you are rewarded with a cool, gooey chocolate mush that tastes better than any fancy chocolate souffle.
It's been a quarter of century since I've had Milo. Maybe if someone had introduced me to this Milo Dino sooner, I wouldn't have waited so long.
Many thanks to Ryan, a five- year old with impeccable taste.

Toast Box
Lobby Level
Trinoma Mall, Quezon City
Telephone: (02) 915 2856
LABELS: Milo Dinosaur, Table Conversation, Toast Box