By franco on 4 June, 2008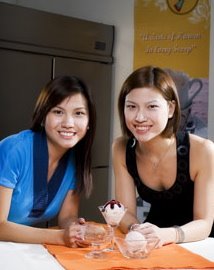 Marilyn and Gwen Dee
are sisters who share many passions. One common passion of particular interest is their love for Gelato. Because of their love of this creamy frozen delight, they ventured to establish their own gelato brand called
Angelati Italia.
From a course in gelato making in Italy to recently opening their first gelateria at the SM Megamall, things seem to be going 'creamingly' for these
sorelle del gelato.
Who in your life has influenced your gelato making the most?
It would be each other. Gwen and I are really close with only one year apart in age. Both of us are born in June which makes us both Geminis. So in that aspect, we are alike in many ways. With our close age, we always hang out together and share the same passions such as are traveling, food, arts, fashion, music, and others. When we see something interesting, we share it with each other. Our love for food and adventure has brought us to different parts of the world and there, we get inspiration.
Which book has had the biggest impact?
Does our recipe book count? =)
There's no particular book that has a big big impact on us really. But its really our travels abroad. Trips to countries abroad really opened our eyes and Gwen and I, are really a pair that loves to try new things. When we travel, we really set aside money for really good meals and to sight see.

How was your first attempt at making gelato?
We were in Italy for gelato-making training and we were trying to compute or balance recipes and we realized that it wasn't as simple as we thought it would be. We were still jet-lagged for our first day of training and it was hard to concentrate or stay awake. But when we finally got to our hands-on training, it got more interesting and fun. We had the chance to be imaginative and try out our own recipes and check if they are good. At the end of each day, we got to taste so many flavors and gelato just really makes us happy.
What made you decide to start Angelati Italia?
Gwen and I have always wanted to start our own business. In our many travels to Asia, we noticed that there are a lot of gelato shops. That really got us curious about the whole gelato business. We began to wonder why there are so few gelato brands in the Philippines when in fact Filipinos love Italian food, plus, the Philippines has such a hot climate that's perfect for gelato. So finally, we took our growing interest one step further by going to none other than Italy, where gelato originated or was made popular. There in Italy, we saw how staple gelato is to their diet. Its as staple to the Italians as pizza and pasta. There's practically one gelateria in every corner of every street. So, we proceeded by taking an intensive training on how to make gelato and present them in the same way as Italians do in Italy. And that's how we started.
What is your favorite item on the your menu?
Gwen's favorite are
Blueberry Cheesecake, Scoop-a-Snickers, and Kibana
. My favorite are
Hazelnut, Pure Pistachio, Peach Mango, Crème Brulee
. Our bestsellers are
Blueberry Cheesecake, Pure Pistachio, Heavenly Tiramisu, Chocolates & Cereals
, among others.
What was your most memorable ice cream/gelato experience?
Our most memorable gelato experience would be the first time we joined the Christmas Bazaar in WTC last Dec 2007. It was the first time we sold our gelato in the same way as we do it now in our gelateria in SM Megamall (with our showcase freezer and gelato displayed artistically with swirls and toppings). And literally, our gelato were selling like hotcakes! Shoppers were lining up just to buy Angelati Italia and we even had to replenish our stocks during the day. I don't think Gwen and I got to sit down during the day because we had to attend to the customers. It was tiring but very fulfilling! We saw how Filipino consumers loved Angelati Italia and happy and satisfied they were when they eat our gelato.
Another memorable experience was the time we closed our very first deal with a restaurant. Prior to opening our gelateria in Megamall last May 2, we have already been supplying Angelati Italia to restaurants. So the first institutional customer we had was Cantinetta in Rockwell, which until now, is one of our best customers. We currently also supply to Caffe Caruso in Nicanor Garcia in Makati, Green Tomato in Shangri-la Plaza Mall, Mamou in Serendra, East Asian Creative in Rustan's Glorietta, Mickey's Deli in Jupiter Street, Bellissimo Ristorante in Scout Castor QC and Gran Caffe Casanova in Temple Drive QC.
Besides your own, whose ice cream/gelato do you love, local or foreign?
We both love
Ben & Jerry's Peanut Butter Cup
. I also love
Dreyer's Cookies & Cream.
There's also another brand in Boston (we forgot what brand) but it is TWIX flavored. Yum!
What junk food do you love?
Gwen loves pizza! Almost at least once a week, she orders pizza and has it delivered to our house. My greatest weakness when it comes to junk foods is cookies. I love chocolate chip cookies especially those that are home-made.
Is there an ice cream flavour you just can't seem to enjoy?
None that we can think of now. But I heard that there's ice creams/gelato abroad that's wasabi flavored. I don't think I'll ever try that.
Just between us, what are your future plans?
We have plans of opening another gelateria hopefully within the year. We also would like to expand our concept to a café.
Angelati Italia Gelateria
Ground Floor, Building A
SM Megamall
Mandaluyong City, Metro Manila
For Direct Orders:
Celphone: (0917) 811 1411 or (0917) 899 0110
Telephone: (02) 562 2217, (02) 559 0316 (offfice hours only)
Email:marilyn.dee@gmail.com or dee.gwen@gmail.com
LABELS: Angelati Italia Gelato, Gwen Dee, Marilyn Dee, On The Table