By franco on 25 June, 2008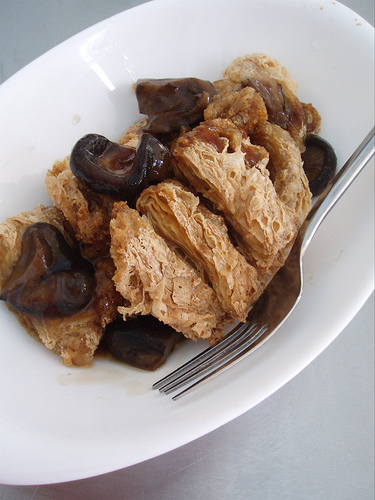 Fried Bean Curd with Shitake Mushrooms in Oyster Sauce
Franco's Note

: Small change this month. The Three will be writing about comfort food we love–where we go or what we make when we need the soothing fix that our favorite foods can provide. Enjoy.


I'm sitting at a table of female fashionistas, feeling a bit out of place.
When a fashion editor turns to me (trying to make polite small talk) and asks, "So I hear you are a serious foodie, what restaurant do you like?" Without batting an eye, I respond, "North Park." She looks surprised by my answer. "North Park?! I thought you were serious about food?"she inquires in a perturbed tone. After a moment of thought, I turn myself toward her and say, "I love food. And why not North Park? The service staff is fast, polite and efficient. The decor is functional yet stylish and the food is great value and consistently good. What more could anyone ask for? " End of small talk.
When people label of you as a foodie, they always assume that your choice of favorite restaurant will be formal, expensive and always fine dining. Admittedly, I do enjoy the Antonios', Lolo Dads' and Tsumuras of the world. Believe me if I could eat at such places more often, I probably would. But honestly, who could possibly afford it? Beside, isn't too much of a good thing just too much?
I'm getting off point.
As I've said before, the one thing that any restaurant guest wants (beyond the obvious: delicious food, great service and interesting ambiance) is consistency. Sometimes, all I want is the comfort that comes with the knowledge that when I sit down for a meal, I know exactly what I'm getting. More often than not, it's always satisfyingly delicious. So, why not North Park?
The order is always the same. The ever-reliable Pinsec Frito (P67 for 4) and the crispy-on-the-outside-but-tender-on-the-inside Salted Garlic Squid (P165) are definitely must-orders.
But what I truly love are the Fried Bean Curd Skins with Shitake Mushrooms in Oyster Sauce (P114) and King Dao Spareribs (P160). It's hard to resist biting into those deep fried bean curd skins shaped into cocoons of airy crunchiness. Accompanied by the contrasting texture of the soft, smooth shitakes and lightly covered with a sweet, tangy oyster sauce, this dish is North Park simplicity at its tastiest. Maybe it's the pork covered in gooey, red glaze? Or maybe I just love eating my food with my hands? Whatever the reason, I love the King Dao Spareribs. Normally, I have an aversion for brightly colored food. But this Cantonese dish of deep fried pork ribs keeps calling my name every time I visit. There are many other items I haven't tried on the menu but why struggle against the urge?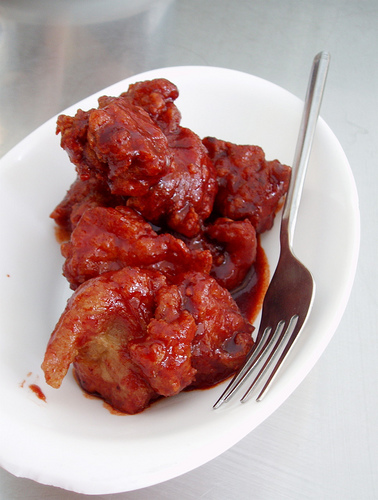 King Dao Spareribs


There are as many definitions of comfort food as there are people. For some, comfort food is feasting on mom's steaming hot, home-cooked
tinola
at the family table. For others, it's a garlic and cheese, thin-crust pizza shared with friends. While for others, it's munching on a warm chocolate chip cooke while in bed, snuggled under the blankets. However you define comfort food, it's always about savoring the memories, the emotions and the sense of well-being that only these foods can provide.
North Park

P. Guevarra Street

San Juan, Metro Manila

Telephone: (02) 73737 (for delivery)

LABELS: Comfort Food, Franco, Manila, North Park, Restaurants