By Mariko on 30 June, 2008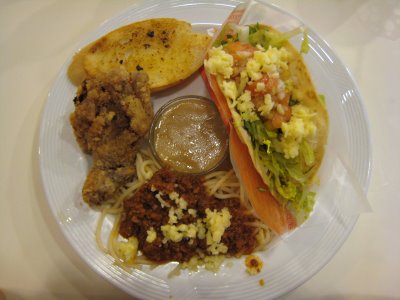 Franco's Note

: Small change this month. The Three will be writing about comfort food we love–where we go or what we make when we need the soothing fix that our favorite foods can provide. Enjoy.

I was trying to figure out which Pancake House memory to write about. Should it be about
A)
the time I used to order the three-piece Panchicken whenever I dined there? (This was over a decade ago, when my waist was, oh, a good three or four inches bigger. Growing up with older brothers who had voracious appetites kind of messed up my eating habits a bit…) Or
B)
the time some former co-workers and I were sitting around a table, talking about which resto we could eat at every single day of our lives. (When N declared, "Pancake House!" we all nodded in agreement.) Or
C)
all the times my best friend and I had brunch there to celebrate her birthday or mine. (It's tradition.) Or
D)
the time the waiter at my usual Pancake House branch tried to guess what I would order. (I was in a chocolate-chip pancake phase. I'm predictable that way.) Or
E)
the times I would take a late lunch break, just to avoid the crowds and to spend some quality "me" time. (I'd whip out a magazine or a laptop and enjoy the solitude.)
Obviously, I settled on "all of the above."
With Pancake House, it's not just about that one experience, or that one dish that comforts me. It's about years of memories, time spent with people that mattered, lunch breaks used to catch my breath. Pancake House isn't just about comfort food–the place itself is comfort. It's my refuge, my reward, my routine, my happy place!
That said, there are a few things that are on rotation in my "to order" list:
The House Specials Set (pictured above). This includes their three bestsellers: Spaghetti with Meat Sauce, The Best Tacos in Town, and one-piece Panchicken. A slice of garlic bread is thrown in for good measure. When I have different types of food on my plate, I normally like ending my meal with my favorite item–a save-the-best-for-last kind of thing. But whenever I order this set, I can't seem to decide what deserves that last bite. (Today, it was the Panchicken.)
Chocolate Marble Waffle. This is a classic golden-brown waffle with some chocolate syrup mixed into the batter, and with peanut butter on the side. When the best friend and I have brunch, we normally order a two-piece Panchicken and a Chocolate Marble Waffle, then split the two dishes. We throw in mashed potatoes as well.
Mashed Potatoes. I remember someone telling me that Pancake House mashed potatoes come from a box, so they're not made from real potatoes. I have no idea if this is true, and, frankly, I don't really give a hoot. They could be made of civet droppings for all I care, and I'd still be convinced that they're the best mashed potatoes ever. Especially with that gravy. Gracious, that gravy. I actually like that it's ever-so-slightly lumpy.
Fiesta Taco Salad. When I feel like I need veggies, I order this. I could fool myself into thinking that it's good for me. (Never mind that it's got Chippy and a mound of cheese.) The dressing also has an asim factor that I really like. This is the only salad that leaves me full after I eat it.
Chocolate-chip Pancakes. With a heap of chocolate chips mixed into the batter, a bit of butter cream on the side, and loads of maple syrup, this little beauty probably has a day-and-a-half's worth of calories in one serving. But I manage to delude myself into thinking that it's breakfast food, so it must be good for me. Right?
Sigh. Pancake House. I could live there.
LABELS: Comfort Food, Manila, Mariko, Pancake House, Restaurants