By Guest on 19 June, 2008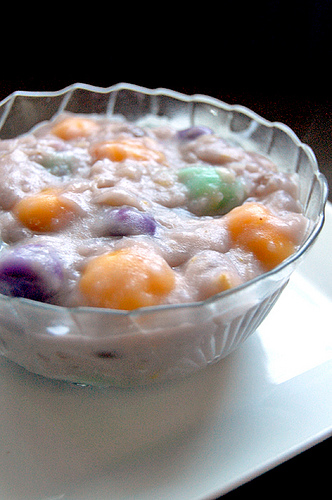 Franco's Note: Small change this month. The Three will be writing about comfort food we love–where we go or what we make when we need the soothing fix that our favorite foods can provide. Enjoy.

A good lot of my fonder memories of childhood have something to do with the food and beverages I used to consume when I was younger: from the hot chocolate made from
tablea
we used to make at home, to the glass of
taho
my brother and I had almost every morning, and the
putobumbong
,
sinampalukan
,
kalderetang may gata
and
tinumis
that was ever-present in our visits to my grandparents' home.
When I was given the topic for my guest entry, I actually found myself a bit distressed. My ideas of comfort food are actually pretty boring: cereals, fruits and, well, a good home-cooked meal. I sat on it for days, knowing that there was something I find comforting that was a lot more interesting than the aforementioned. And then it came to me: ginataang halo-halo.
A wonderful medley of saba (cooking bananas), gabi (taro), kamote (sweet potato), langka (jackfruit), sago (tapioca pearls), ube (purple yam) and bilu-bilo (rice flour balls) in gata (coconut milk), this dish isn't just about how delicious everything is together, but also the different textures that you encounter in a spoonful of it, in a bowlful of it. I remember that the moment I had my first bite, one with an especially large bilu-bilo, I fell in love.
You can probably tell by now that my favourite part of this particular Filipino snack are the rice balls. They're soft, chewy and faintly sweet. They're usually just white in colour, but you may have them in yellows (langka or mango), greens (pandan) and purples (ube). Whether they were multihued or devoid of added flavours, they were all perfect to me. I'd go to the big pot full of ginataang halo-halo and purposely put more of the bilu-bilo (and sago!) and less of everything else. And that, right there, is Love in a Bowl, in Joeyland.
More than fruits and more than cereals, ginataang halo-halo gives me a very distinct sense of comfort. Sitting myself down with a hot bowlful of it, I'd inhale it's scent and already feel better. And the moment that the first spoonful of slippery sago, chewy bilo-bilo, and earthy root crops slides down my throat, my mind tells me that everything's going to be okay, that I'm home and I'm safe. And I don't think a dish can get any more comforting than that.
Many thanks to Joey of Manila Foodistas
LABELS: Comfort Food, Joey, Manila Foodistas, Restaurants