By franco on 17 May, 2008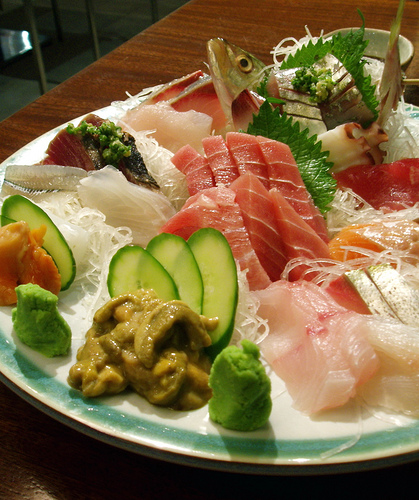 A selection of sashimi from Tsumura
Truth be told, it takes a lot to get me excited about eating out.
I have been very fortunate to have eaten in some amazing places. But eating out hasn't always been a stellar experience. Most restaurants have been fairly run-of-the-mill. Sadly, some have been like trying to endure what I call gastronomical purgatory. Those meals, I try very, very hard to forget.
Once in a while, a select few fall into a special category. Tsumura is easily a member of this group that can only be labelled as simply food nirvana.
Before I move on, let me address the issue of price.
I've heard the puns. Tsumura is anything but mura or cheap. In fact, it should be called Tsumahal. I won't deny it. The prices are on the higher end of the scale. But it's not as exorbitant as one would imagine. In fact, if you avoid the overtly premium items like the imported toro sushi at P400/piece or the P16,000 bottle of sake, your bill will be comparable to having eaten in any fine dining restaurant in Manila.
As my friend, Sharkey would have called it, Tsumura is simply a 'value for money' dining experience. The pristine quality of the ingredients, the craftsmanship that goes into the preparation and plating of the dishes and higher standards of service can easily justify the prices.
If Japan had a signature dish, it would be sashmi. Nothing captures the gastronomical essence and culinary vibe of Japanese cuisine better than a beautiful crafted platter of immaculately sliced, fresh seafood. In my mind, any Japanese establishment can be judged solely by how they serve this dish of subtle refinement.
Needless to say, A and I decide that sashmi would be the best way to begin our dinner. Tsumura did not disappoint. A pristine dish arrives at our table. On this circular platter is a vast array of seafood resting on a bed of glass noodles: slices of toro, salmon, yellow fin and mackerel, slivers of cuttlefish and octopus and little mound of sea urchin. It's almost too lovely to eat. But overcome with hunger, we tuck in and gingerly taking the dish apart piece by flavorful piece. Every bite is a taste of the sea. Clean. Uncomplicated. Every piece of sashmi reveals the understated textures and flavors specific to each piece. Every slice almost seems to melt in your mouth. Simply food nirvana.
Tsumara has ruined me.
I'll never be able to eat sashimi anywhere else again, without comparing it to the sublime and elegant experience that is Tsumura.
Tsumura Sushi Bar and Restaurant

2/F 88 Corporate Center

Sedeno corner Valero Streets

Salcedo Village, Makati City

Telphone: (02) 887 4848- 50

LABELS: Table Suggestions, Tsumura