By franco on 7 May, 2008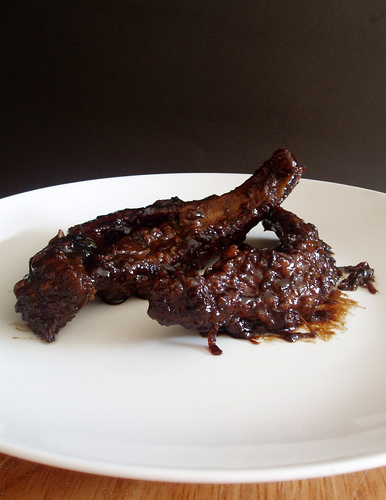 I have never meet
Cecilia Au-Yang
, until I opened my copy of this month's
Gourmet
.
Dubbed as the Julia Child of Hong Kong, she has written forty books on regional Chinese cooking and is the Managing Director of the Chopsticks Cooking Centre, a culinary haven for those looking to discover and deepen their understanding of the gastronomical delights of Chinese cuisine.
As part of this feature, the editors of Gourmet have added a recipe I just couldn't resist. For better or for worse, I love pork. And since my cooking palette of late has been favoring the flavors of Asia, this dish was literally calling out to me to try.
Some quick notes. I lengthened the cooking time suggested in the original recipe. Simply because, the locally available pork requires it in order to achieve the tenderness I like for my ribs. Given the longer cooking time, I have added a third of a cup of water to final braising, to avoid burning the sauce. Feel free to add more if necessary.

Ribs with Black Vinegar Sauce
Adapted from Cecilia Au-Yang, Chopsticks Cooking Centre, Hong Kong

2 lbs pork spareribs, cut into individual ribs
1/4 cup cornstarch
3 cups peanut or vegetable oil for frying
4 garlic cloves, thinly sliced
1 small onion, thinly sliced
2 tablespoons ginger, julienned into thin matchsticks
1/2 cup packed light brown sugar
1/2 teaspoon sea salt
2 tablespoons Chinese Shaoxing wine
1/3 cup chicken broth
1/3 cup Chinese black vinegar
1/3 cup soy sauce
1/3 cup water

Boil ribs in stock pot of water for 30 minutes over low heat. Remove and dry.

In a large bowl, mix together the cornstarch and salt. Add the ribs, toss and lightly cover with cornstarch mixture.

In a frying pan or a heavy pot, heat the oil. Fry the ribs until medium golden brown. Cook in batch if necessary. About 5 minutes per batch. Once done, remove the ribs from the oil and set aside.

Heat 2 tablespoons of oil in a large saucepan. Add garlic, shallot and ginger. Stir frequently. Cook until a light, golden brown. Add the sugar. Continue stirring. Once dissolved, add the rice wine and bring to boil.

Add the ribs along with the broth, vinegar, water and soy sauce. Bring to a simmer and cover. Occasionally, stir the sauce and turn the ribs over. Cook for 1 1/2 hours over low heat.

Transfer ribs to a serving platter and whisk sauce over high heat until a syrup-like consistency. Pour over ribs and serve.

Serves 4
This recipe is amazing. The tender pork ribs are covered in a glaze of black vinegar that is both sweet and sour at the same time. As suggest by Gourmet, serve with white rice so that you can soak up every drop of this lovely, flavorful sauce.
Having eaten this dish, I've decided to save up. It's time to meet Cecilia and learn the secrets of Chinese cuisine from a master.
Many thanks to Bing, my ever ready photo assistant.

LABELS: Ribs in Black Vineger Sauce, Table Recipes