By franco on 12 May, 2008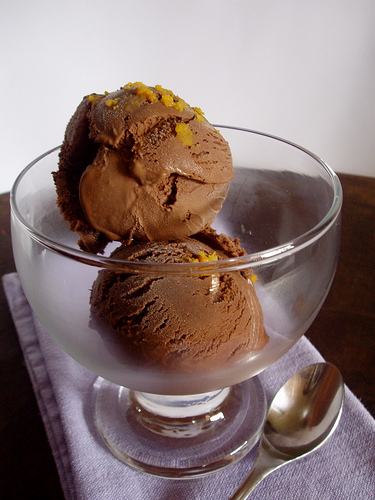 It started with a text message.
"We loved the Chocolate Caramel Ice Cream. Thanks. 🙂 But can you make a Chocolate Orange Ice Cream?" the message said. I love a challenge.
Making the chocolate base of this ice cream is easy enough. I've done that more times than my expanding belly would care to remember. But how to achieve the orange flavor? For answers, I turn to my friend, Stich and his wife, M. I know for a fact that this couple, being avid home bakers, have made amazing Chocolate Orange Cookies in the past. With that experience, I'm hoping that they can help me crack this little conundrum.
Since I have never tasted Chocolate Orange Ice Cream, I asked M. what exactly it was. An ice cream with a chocolate base and an undertone of orange flavoring? Or an orange ice cream with chocolate chips? M. answer, "Most definitely the former."
Next question: How do I achieve the orange flavor without overpowering the chocolate? Initially, I was thinking about using freshly squeezed orange juice for flavor and orange rind for aroma and color. Stich sets me straight. He suggests using orange extract instead orange juice. "You don't need more water in the mix, right?" he adds. I agree.
Using David Lebovitz's Chocolate Ice Cream recipe as a starting point, I get to work.
Dark Chocolate Orange Ice Cream
Adapted from The Perfect Scoop by David Lebovitz

2 1/4 cups heavy cream
6 tablespoons unsweetened Dutch process cocoa powder
1 cup whole milk
1 cup sugar
6 ounces unsweetened chocolate, chopped
1 teaspoon of vanilla extract
1/2 teaspoon of orange extract
Grated zest of 1 orange, preferably unsprayed
Pinch of salt

In a medium saucepan, whisk together the cream, cocoa powder, sugar and salt. Bring to a boil.

Remove from heat and grate the orange directly over the cream mixture.

Add chocolate and whisk until melted. Add in milk, orange and vanilla extract.

Pour the mixture into a blender and blend for 30 seconds, until smooth.

Chill the mixture in the refrigerator, then freeze in your ice cream maker according to the manufacturer's instructions.

Makes about 1 litre
After letting the ice cream set overnight in the freezer, I give it a try. It tastes exactly as it was described to me. A velvety smooth dark chocolate flavor first presents itself. It is quickly followed by the sublime aroma and flavor of freshly sliced oranges that lingers as you take your next bite.
I admit I prefer my chocolate straight up and unadulterated by other flavorings or add-ins. But after having a scoop of this ice cream, I may have to reconsider that preference.
For the inspiration and suggestions, many thank to Stich and M.