By franco on 1 May, 2008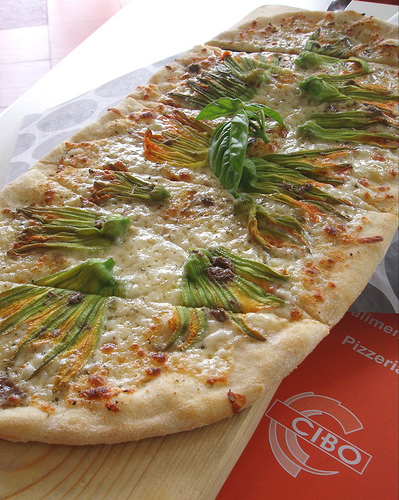 Fiori Di Zucca from Cibo: Mozzarella, Squash Flowers and Anchovies
Pinoys are Pizza crazy.
From a chain or a high-end Italian eatery, we just can't get enough of this flat (sometimes), round (sometimes), oven-baked bread covered in toppings ranging from the traditional (tomatoes, cheeses and herbs ) to absurd (pineapple, cottage cheese and fish roe). Deep dish, thin or think crust. Neopolitan, Sicilian or Lazio. Caruso, Cibo or Shakey's. It really doesn't matter when or where from. We just love our pizza.
So here is the question. When you want a pizza, who do you call, where do you go and what do you order?
Mariko says:
I love
Shakey's
Pepperoni crunch on a thin crust (if I wanted a thick crust, I would order a sandwich!). With extra crunch, please!
I've only tried it once, but I also think the Milan Pizza at California Pizza Kitchen is delicious. Thin crust with Italian sausage, wild mushrooms, caramelized onions, Fontina, Mozzarella, and Parmesan cheese, and fresh basil.

Margaux Salcedo says:
For a chain restaurant, I like Brooklyn Pizza and for a stand alone, Puccini.
I always order a four or five cheese or whatever's closest to it. Except at Shakey's where I order the garlic and cheese.
Monchu says:
I'd have to go with Yellow Cab and Cantinetta.
At Yellow Cab, I like the everything on it. But usually, I just order the four cheese with extra cheese and anchovies. And yes, I can finish one pizza, and two cans of coke in one sitting. At Cantinetta, I like four cheese. So, it's basically the same order.
Chef Marco Legasto of Purple Feet says:
Carruso along Reposo Street (aka. Nicanor Garcia) is good. They have a wood fire oven and its run by an Italian. I always find a freshly made pie from Brooklyn Pizza great.
Stich says:
Brooklyn Pizza for huge, NY style Pizzas. And with a variant named "Porko", c'mon! How can I resist?
I still like A Venetto for cheap pizzas. They aren't the best out there, but they've been consistent in terms of providing value for money.
Sharlene Tan, associate food editor of Yummy says:
I love California Pizza Kitchen. My favorites are the White Pizza–a five cheese pizza (made with Mozzarella, Fontina, Ricotta, Parmesan and Pecorino Romano cheeses) with sauteed spinach and applewood smoked bacon, and the Vegetarian Pizza with Japanese Eggplant. I always get them in honey wheat dough just to make me less guilty about the calories.
As for restaurants, I always go to Cafe Caruso in Reposo, Makati for their four-flavors-in-one pizza (have to check what it is called exactly). I make sure to include the Quattro Formaggi and Prosciutto with Mushrooms in my choices.
Christine of Ramblings of A Gypsy Soul says:
I judge a pizza by it's crust (this is really 50% of a pizza), it's gotta be good enough to eat on its own, and the freshness or quality (and not quantity) of it's ingredients. I'm not much of a 'everything-on-it' kinda gal. Having said that, I do have my favorites in the city.
In the chain pizza category , well that's a tough one, I have 3 favorites (Magoo's Joey's Special, Yellow Cab's Roasted Garlic and Shrimp & Brooklyn Pizza's White Pizza) and I love them equally. But if I were forced to choose just one then I'd go with Brooklyn Pizza's white pizza. It has no tomato sauce, just good quality cheeses which I believe are mozzarella, ricotta and parmesan. The crust is crisp yet chewy and.. ohhhh the cheese! It's truly heaven on a pie for cheese lovers like me. If you haven't already tried it, please don't take my word for it and go have some now!
Pizza from a stand alone restaurant, hmmm. Do panizzas count? Because I am absolutely smitten with the Panizzas of C' Italian Dining in Angeles City. The panizza is Chef Chris' own unique creation. It's basically a thin-crusted rectangular pizza with choice toppings (there are about a dozen combinations) sliced into strips. You take a strip, top it with arugula and alfalfa sprouts, drizzle with pesto (or not, your choice) then roll it up, and prepare to be blown away!
Many thanks to Stich, Margaux, Christine, Chef Marco and Sharlene
LABELS: Manila, Pizza, Table Conversation