By Mariko on 30 May, 2008
Franco's note: A change this month. Instead of the usual three impressions of one restaurant, we will be writing about a food destination that caught our interest, Nicanor Garcia Street or more popularly known as Reposo. The three of us will be visiting three different restaurants along this epicenter of food and design. Enjoy reading.

I am not a big fan of art.
There, I said it.
I can marvel at friends' collections, and ooh and ahh with the best of them, but I don't see myself collecting sculptures and filling my wall space with paintings. Maybe it's because, most of the time, I just don't get it.
Take for example one of the exhibits at Ricco Renzo Galleries & Bistro. Entitled Sculptures in the Square, it featured "the world's first invisible sculptures." They were crafted from some passing breeze or other. One of them supposedly can be seen if you squint hard enough. I think I'm missing something here…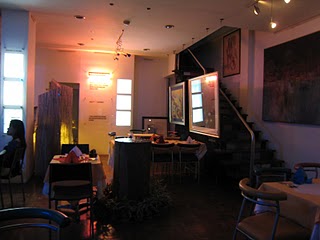 The first floor; more art on the second floor
What I
can
appreciate, however, is good food–and Ricco Renzo serves this up alongside watercolor works by Rafael Cusi, the aforementioned invisible sculptures, and the occasional flamenco show. Our
Osso Bucco Milanese
(P370) came highly recommended, and it didn't disappoint. One of the cafe's bestsellers, the dish is made up of beef shanks "braised in red wine, tomato, and a medley of herbs and spices." I'm on a bit of a saving trip, so I initially balked at the price, but convinced myself that it was OK after seeing the generous serving. The beef was incredibly tender, the sauce heady with flavor. When we told the waiter we enjoyed it, he revealed that it takes seven hours to prepare!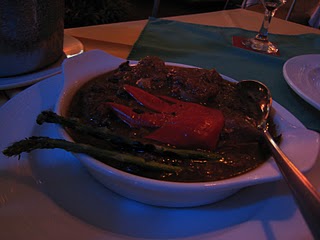 The pan-seared tuna was recommended as well, but I wanted a more filling fish dish and so ordered the
Steamed Pompano with Spinach Salad and Mashed Potato
. It was P350, but, again, it was a hefty serving…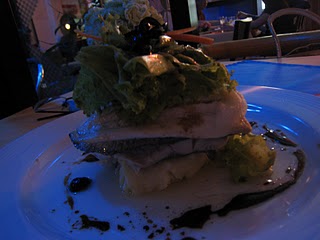 Steamed Pompano with Spinach Salad and Mashed Potato*
I didn't enjoy this dish as much as I did the Osso Bucco because, to me, it lacked flavor. it was supposed to have ginger, garlic, and a "special house blend sauce," but I could barely taste any of it. I was also a bit upset that I didn't get a spinach salad. One of the reasons I ordered the dish was for the spinach, but instead I got lettuce. When we mentioned it (nicely) to our waiter, he immediately tried to make up for it by offering another salad. "May masarap na masarap na cranberry dressing, ma'am!" he said. I thought it was really cool of him to do that. And yes, the cranberry dressing was "masarap na masarap"!
The cafe also has a lot of appetizers, some pasta dishes, and dessert so there's lots to choose from. If you're the type who appreciates food with a side order of art, then it's worth a visit.
And do tell me if you see any of the invisible sculptures.
*Forgive the bluish tint of the photos–there was some blue light coming from outside. Er, let's call it art!

Ricco Renzo Galleries and Bistro
G/F LRI Plaza
210 N. Garcia St. (formerly Reposo)
Bel Air II, Makati City
Telephone: (02) 898-2542 to 45
Website: http://www.riccorenzo.com
LABELS: Manila, Mariko, Reposo Repast, Restaurants, Ricco Renzo