By franco on 27 May, 2008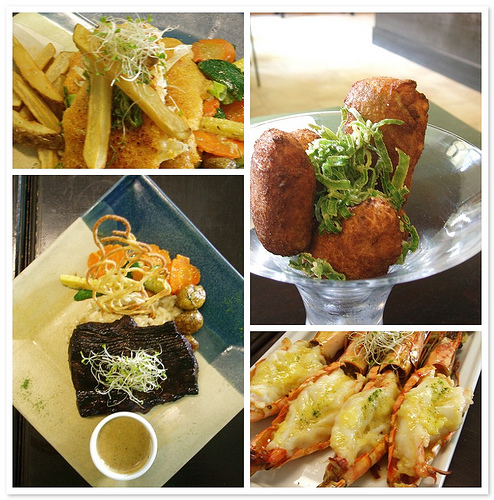 from top left,clockwise


Parmesan Encrusted Cobbler, Jalapeno Poppers,


Prawns with Honey and Cheddar Sauce, Grilled Ostrich with Mushroom Sauce
Franco's note:

A change this month. Instead of the usual three impressions of one restaurant, we will be writing about a food destination that caught our interest, Nicanor Garcia Street or more popularly known as Reposo. The three of us will be visiting three different restaurants along this epicenter of food and design. Enjoy reading.


In the most ideal of situations, dining out should be an adventure.

A chance to explore new worlds of flavor without leaving the comfort of your restaurant chair. Take for example, Purple Feet. Embedded within The Wine Depot along N. Garcia Street, Purple Feet has garnered a word-of-mouth reputation for being the 'it' dining place of the moment. A reputation gained without the benefit of any external street signs or old media press releases. A reputation promising to provide its guests with a more interactive dining experience.

Their style of cooking has been dubbed freestyle. Translation: choose your own adventure.

For their main entrees, diners are first asked to peruse a menu of proteins written on a large blackboard.
From common fare like chicken breasts and pork chops to unusual like ostrich steaks and pork trotters, the choice is wide and varied. Next, a Purple Feet chef will approach your table and discuss with each guest how they wish their chosen protein prepared. Here is where it gets sticky. Some diners are elated by the idea of being able to decide on the fate of their meal while others approach this decision with as much joy as having to visit the dentist or taking a final exam at school. Appetizers and desserts are fixed and exempt from the fun (or dread) of diners' interactivity.

Another plus for Purple Feet is their wine menu. Or more precisely, their lack of wine menu. At this restaurant, diners have the generous option to buy their wines at the adjacent Wine Depot at retail prices, meaning no outrageous wine markups that most fine dining establishments have become infamous for.

For our lunch, we begin our meal with two, best-selling (according to our server) appetizers. Jalapeno peppers are stuffed with a mixture of sour cream, diced jalapenos and Romano cheese. Breaded and deep fried to a dark golden brown, the Jalapeno Poppers (P250) are served with a garnish of tempura-fried ribbons of scallions. This dish is about layers of texture and taste. First, a crispy outer coating, followed by the mildly hot, al dente bite of a whole jalapeno. Then, finally, the salty and molten center ooze of mixed cheeses. A savory mentos-like bite. The Rib Fingers (P450) are boneless beef ribs encrusted by a caramelized marinade that includes a splash of Jack Daniels whisky. Fall-off-the-bone tender, these beefy digits of dark caramel goodness seem to melt in your mouth with every bite. So delicious are these small plate starters that I'm considering going back, ordering a couple of bottles of wine and savoring more delights from Purple Feet's appetizer menu.

Our party settles on three main entrees: the Parmesan Encrusted Cobbler (P400), a Grilled Ostrich with a Creamy Mushroom Sauce (P650) and the Prawns topped with a Honey Cheddar Sauce (P530). Our friend, T. enjoyed her Prawn dish but found her equally sweet pasta side dish, a little bit off. After having a taste, I found the pasta not to be the issue of the dish but more the overcooked Prawns that were soft and almost mushy. My grilled ostrich was served exactly as I requested. Black and Blue. A black char on the outside with a very rare interior. Ostrich doesn't have the wonderful marbling of fat the some cuts of beef do. So grilling this slightly gamy meat rare to medium rare is necessary. Unless, you like chewing on leather for lunch. The standout dish of the meal was A's Cobbler. A light Parmesan cheese coating perfectly encapsulates the buttery white flesh within. Light and yet full of flavor. The grainy, salty cheese exterior is complimenting contrast to the smooth, subtly sweet center. The only downside? We wished it had been better presented on the plate.
There is a price for all this interactivity, for this freestyle cooking. It is a lack of consistency. In a normal restaurant with a fixed menu, there are already many variables involved in creating a memorable dining experience. The freshness of the ingredients, the disposition of the line chefs and the professionalism of the service staff are a few of this issues facing a restaurant on a daily basis. At Purple Feet, cooking solely on the guidance (or lack of) from each guest can be a daunting experience for both cooks and diners–for the diner, helping shape his/her culinary expectations and for the chefs having to meet those expectations without the safety net of a set menu to fall back on. Chef Marco and his kitchen staff should be admired for even attempting to please the picky whims of Manila's dining public at every service.
Dining at Purple Feet is very much like a dance. You choose the song and the Purple Feet's chefs lead you through the steps. Many times you walk away feeling like you've waltzed with Fred Astaire. Every bite, a flawless movement. But other times, you stumble off the dance floor with two, very sore, left feet. An overcooked piece of meat here, over-seasoned sauce there and all your expectations of a fabulous culinary adventure come to an abrupt end.
To paraphrase Forrest Gump, Purple Feet is like a box of chocolates. You never know what you are gonna get. In my opinion, it's still worth coming back, hoping to savor those perfect steps.



Purple Feet

217 Nicanor Garcia St. (formerly Reposo St.),

Bel-Air, Makati City.

Telephone: (02) 897 3220 or (02) 897 8167


LABELS: Franco, Manila, Purple Feet, Reposo Repast, Restaurants