By Mariko on 12 April, 2008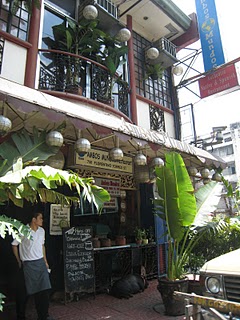 I may be a grown woman but I still suffer from unica hija syndrome.
A few months ago, I had this plan of going to Ambos Mundos with my family, to celebrate my dad's birthday. My parents have always been fans of hole-in-the-wall restos and roadside carinderias, so I thought a little Spanish resto tucked in a Manila side street was something my dad would enjoy.
I texted my dad, asking if he had heard of the place. "It's a hangout of seedy characters," he warned me. I could hear his gruff voice and imagine his scowl as he said it. "Why?" was his next message. That single word is actually Daddy-speak for "Don't even think about going there, young lady."
And that was that. Of course, the idea of going to Ambos Mundos had been in my head for years, and I made some half-hearted plans with my friends on several occasions. I finally found the time and some willing eating companions, and decided to go one weekend. Er, without Daddy's knowledge, of course. His general concern for his daughter's safety, plus his many conspiracy theories would be enough to bring about an attack of stress. (And a bit of scolding. Embarrassing, given my age.)
I half-expected a four-table affair with minimal lighting—in my mind, the resto would have a banquet table in one corner with dim overhead lighting; the air would be thick with nicotine-laced fog exhaled by the smoking Mafia men, clad in white suits and fedoras. Beside these "seedy characters" would be women wearing flapper-style dresses and blood-red lipstick. And they would be chewing gum.
Instead, I walked into a two-storey structure, brightly lit, with a canteen-style counter and menu board, and a bibingka station up front. Two large black pigs (father and offspring) were at the entrance, grunting in their sleep. The pleasant waitress, Sagring, led us upstairs to the air-conditioned area. I had spoken to her earlier on the phone to get directions (commuting lightweight that I am), and she was almost exactly as I pictured her. Over the phone, she was very pleasant (and also somewhat confusing), instructing me to get off at the Isetan station and cross either Avenida or Rizal Ave. (depending on which LRT I alighted from). I normally end up reading maps in reverse, but thankfully, my friends were able to figure out that, after getting off at the Recto station of the LRT2, we had to cross over to the Isetan side, then walk a couple of blocks (crossing Rizal Ave.) til we reached Florentino Torres Street.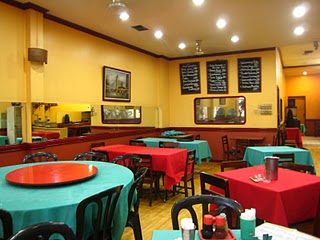 We were seated beside a table of old ladies—eating buddy P theorized that the Mafia men might come out after-hours. As it was, the only thing suspect was the house water.
Stay tuned for Franco's history lesson in an upcoming post. For now, let me focus on the food. The menu was extensive, and made more overwhelming by the fact that you could order stuff from the Chinese resto fronting Ambos Mundos. Based on some newspaper clippings, I gathered that in the old days, Ambos Mundos was actually known for its excellent Filipino food. But we came with Spanish food in mind, so we ordered–what else?–paella, picking the Paella Ambos (P390 for a small serving). It was loaded with sahog–crab, mussels, eggs, pork, tomatoes, so you get your money's worth. I did miss having chorizo in my paella though.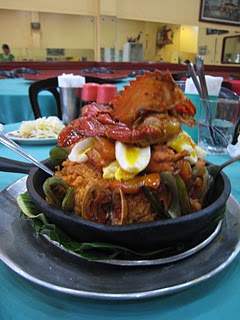 The Morcon (P227) on the menu also caught my eye. The first (and maybe the last) time I ever had morcon was nearly 20 years ago at a friend's house. Back then, I was a really picky eater, but since I was a guest, I had to politely eat what was served. Surprisingly, I really liked the dish, and when I asked my yaya if she could make it, she said, "Mabusisi!"
This morcon wasn't quite what I remembered having two decades ago–I was disappointed to see hotdogs in the middle, but realized later on that they were actually sausages.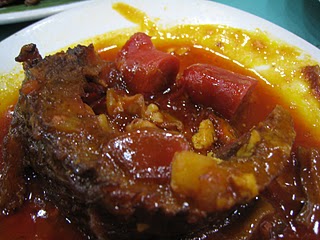 We also had the
Torta Alimango sa Talukay
(P200), which seemed pretty pricey for one shell, but this was perhaps my favorite part of the meal. That itty-bitty crab had a lot of meat on it, and the top was deliciously crispy. I likened the crust to the yummy brownie corners that people always fight over.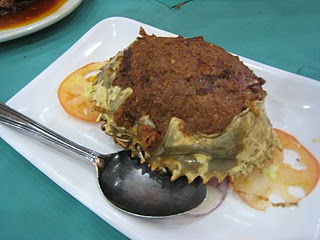 We ended the meal with a freshly made Special Bibingka (P62) from the resto's bibingka station. It had the coconuttiest-tasting niyog I have ever had, and a sprinkling of sesame seeds added a new dimension to it; there was an interesting mix of textures as the sesame mixed together with the soft (and piping hot) rice cake.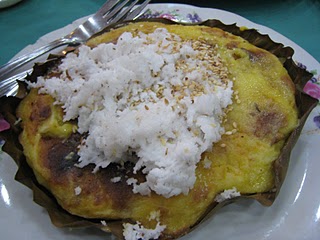 My friends are keen on going back, with more friends in tow, but I'm happy with just this one visit. Perhaps next time, I would go to try the Chinese resto across the street.
LABELS: Ambos Mundos, Manila, Mariko, Restaurants